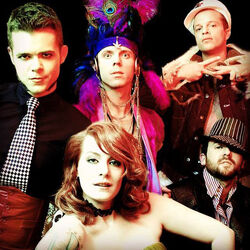 Scissor Sisters is an American pop/rock band formed in 2001. Forged in the gay nightlife scene of New York, the band took its name from the female same-sex sexual activity tribadism. Its members include Jake Shears and Ana Matronic as vocalists, Babydaddy as multi-instrumentalist, Del Marquis as lead guitar/bassist, and Randy Real as drummer (who replaced Paddy Boom). Scissor Sisters incorporates diverse and eclectic styles in their music, but tends to sway towards pop rock, glam rock, nu-disco, and electroclash.
Scissor Sisters has performed around the world and have become recognized for their controversial and transgressive live performances. They also collaborated with a number of other well-known pop musicians, including Elton John and Kylie Minogue; these particular collaborations have been received positively by both critics and other notable figures. In 2004, Bono, lead vocalist of rock band U2, described Scissor Sisters as "the best pop group in the world". They have also collaborated with Global Cool in 2007 on one of their green lifestyle campaigns.
Links To Peel
Peel played their cover of Pink Floyd's Comfortably Numb on his show between late 2003 and early 2004. No other material from the group were broadcast on his shows.
Shows Played
03 December 2003: Comfortably Numb (Various LP - A Touch Of Class Sucks!) A Touch of Class
2004
External Links