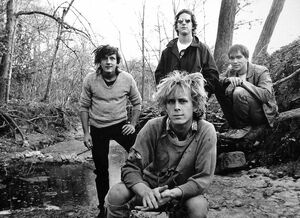 Scratch Acid was an American noise rock group formed in Austin, Texas in 1982. One of the pioneers of noise rock in the 1980s, the band is best remembered as a stepping stone for its front man David Yow, and bass player David Wm. Sims, both later of The Jesus Lizard. When they first began, their lineup was Steve Anderson (vocals), David Wm. Sims (guitar), Brett Bradford (guitar), David Yow (bass), and Rey Washam (drums). Anderson was kicked out of the band before they ever recorded an album, prompting Yow to move to vocals and Sims to move to bass.
Scratch Acid's first EP was released in 1984 by Texas indie record label Rabid Cat and featured the song "Lay Screaming", a track which vocalist David Yow indicated was "inspired by Marquis de Sade, reading his shit."
(read more on wikipedia)
Links to Peel
Peel seemed to have discovered Scratch Acid in 1985 when they released their self titled mini-album a year after in America. He would often play their records in the late 80's and took interest after the band split when the singer and bass player formed Jesus Lizard, which he also played on his programmes.
Shows Played
1986
1987
1990
1998
External Links
Community content is available under
CC-BY-SA
unless otherwise noted.