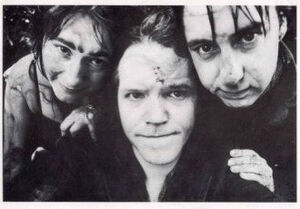 The Sea Nymphs is a side project created by Tim Smith, Sarah Smith and William D. Drake of Cardiacs. Their musical style is much lighter than that of their parent outfit, Cardiacs; the songs dispense with the use of loud guitars and drums, in favour of differing vocal rhythms, keyboards and brass instruments. However, the music still contains Cardiacs' trademark off-the-wall chord progressions and sudden time changes, albeit in a slightly gentler fashion.
Their date of formation is uncertain, although it was in the early part of the 1980s. Their first official release was not credited as being by The Sea Nymphs, as the members were yet to come up with the name, and was simply named Mr and Mrs Smith and Mr Drake. The first release under the official name was the "Appealing To Venus" 7" in 1991, which came free with the first 500 copies of Day Is Gone by Cardiacs and was also sold through the fan club.
(read more on wikipedia)
Links to Peel
In 1998, Peel played tracks from the band's Appealing To Venus EP, which contained the title track from the previous 7", material from the Cardiac's Mr and Mrs Smith and Mr Drake album era and a surprise in the form of "Hymn", a Cardiacs song recorded at the 1984 Stonehenge Free Festival. Also in the same year, Peel invited the group on to BBC Radio One to record a session, where they recorded the tracks Sea Snake Beware, Eating A Heart Out, Lily White's Party and The Sea Ritual.
Sessions
1. Recorded: 1998-10-04. Broadcast: 05 November 1998
Sea Snake Beware / Eating A Heart Out / Lillywhites Party / The Sea Ritual
Other Shows Played
External Links
Community content is available under
CC-BY-SA
unless otherwise noted.