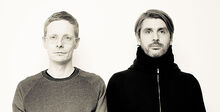 Sender Berlin are a collective of various German DJs including Hendrik Vaak (aka HendriX) and Torsten Litschko (DJ name: Stassy). Sender Berlin first got together at the city's Tresor Foundation club in 1998, where they promoted the weekly Headquarters Nights. Their first track appeared on that year's 'Headquarters - The Album', which showcased their minimalist experimental techno. Their debut album proper was 'Spektrum Welweit' in 1999, which sampled various sounds that they'd collected while performing DJ sets around the world.
Links to Peel
From the group's website:
During a visit to Berlin in 2000 John Peel visited Sender Berlin in the studio (while recording their second album), as he was looking for innovative musicians. The first live performance preview of the new tracks from Sender Berlin was broadcast during one of the BBC's famous John Peel Sessions. They had left a lasting impression because in August 2002 Peel invited Sender Berlin to coordinate the release of their second album "Gestern Heute Morgen" with his night in Fabric Club in London: Sender Berlin live then John Peel on the decks. The filmed documentation of this night was released on Sender Berlin 2005 album "unequal arts". [1]
Peel nominated some of their albums of the months for May 2000 (Peel's Record Box) and August 2002 (Peel's Record Box).
Sessions
1. Recorded in Berlin: 2000-05-11. First Broadcast: 11 May 2000[1]
Three pieces, titles unknown
Live
Recorded live at Fabric on 2002-08-06. First Broadcast: 06 August 2002
Other Shows Played
1999
31 March 1999: (Der) Rote(r) Punkt (LP: Spektrum Weltweit) Tresor
2000
2002
2003
2004
See Also
External links
References
↑ Peel after session: 'No titles as far as we know...1st time I can remember doing a programme which went out on 2 stations simultaneously, BBC Radio 1 and Radio Eins'.