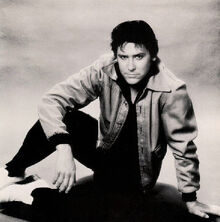 Michael Barratt (born 4 March 1948), known as Shakin' Stevens, is a platinum-selling Welsh rock and roll singer and songwriter who was the UK's biggest-selling singles artist of the 1980s. His recording and performing career began in 1969 for the Shakin' Stevens And The Sunsets band, which ended in 1978, although it was not until 1980 that he saw commercial success when he became a solo artist. In the UK alone, Stevens has charted 33 Top 40 hit singles including four chart topping hits "This Ole House", "Green Door", "Oh Julie", and "Merry Christmas Everyone"; his last Top 40 single was "Trouble" in 2005 apart from his Christmas song, which has re-entered the UK Top 40 chart each December since 2007.
Links To Peel
In 1970 among the crowd during one of the Shakin' Stevens And The Sunsets gigs was the BBC Radio One DJ John Peel, who wrote a generous review of the experience for his column in the weekly music paper Disc. He was so impressed with the band that he even offered the group a record deal with his Dandelion label. With John Peel as producer, the group recorded a number of tracks which some members of the band, felt were not quite up to scratch. Peel was keen to release the tracks on a 10" LP but the band were concerned that they were seen as nothing more than a novelty act.
Shortly after their BBC sessions on First Gear (a two hour show in August 1970, presented by Johnny Moran and produced by John Walters on BBC Radio One that lasted for a couple of weeks to give Peel a break from his normal Top Gear evening show), the band were rehearsing at a venue in Cardiff named the Drope when they were overheard by Dave Edmunds who then later signed the group to record label Parlophone, effectively putting an end to the band's association with John Peel.
In the 80's Shakin' Stevens achieved success in his solo career and many of his songs were shown on Top Of The Pops, especially when Peel was presenting. Interestingly Peel never mentioned his personal links to Shakin' Stevens on the show and rarely played any of his material on his radio shows.
Sessions
Two sessions were performed on First Gear in August 1970.
Shows Played
Top Of The Pops
External Links
Community content is available under
CC-BY-SA
unless otherwise noted.