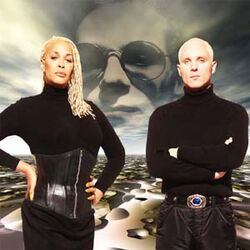 The
Shamen
were a Scottish psychedelic-influenced electronic dance music band from Aberdeen, Scotland. The founding members were Colin Angus (born 24 August 1961), Derek McKenzie (born 27 February 1964) and Keith McKenzie (born 30 August 1961). Peter Stephenson (born 1 March 1962) joined shortly after to take over on keyboards from Angus. Several other people were later in the band. Angus then teamed up with Will Sinnott, and together they found credibility as pioneers of rock/dance crossover, before moving on to international commercial success when joined by Mr. C with
Ebeneezer Goode
and their 1992
Boss Drum
album.....(
Read more
) AllMusic sums up their achievement thus:
"Combining swirling psychedelic rock with hardcore hip-hop rhythms, the Shamen were one of the first alternative bands to appeal to dance clubs as much as indie rockers."
[1]
They were early exploiters of the Internet, being the first to have their own website, release a single and LP on the Web and pioneer webcasts.
[2]
Links To Peel
The band garnered considerable airplay on JP's shows from their first releases, and continued to do so even when they shifted their style to incorporate dance. Initially, he was unsure of the pronunciation of their name, saying: "the ludicrous thing is that I spoke to a member of the band on the phone this very morning. I should have cleared up the pronunciation of it with him then." [3]
Their sole Festive Fifty entry was in 1990, with an as yet unidentified mix of Progen (later known as Move Any Mountain from the lyrics therein).
Shamen recorded four sessions, two in their early indie style and two in dance mode. Only one of these has seen a commercial release, and the band were not featured in John Peel's Scottish Sessions. They have said that their music was influenced by Syd Barrett [4] [1] and synth player Will Sinnott recalled being energized to make music after seeing the Stranglers in Glasgow [5].
Sinnott drowned while swimming on 23rd May 1991: as a result, Peel repeated the 4th session in one block as a tribute. Although John played a mix of their 1992 number one UK hit Ebeneezer Goode, their music disappeared from his playlists thereafter, presumably due to the commercial direction it had taken. However in 1995, The Shamen under the name of Nemeton released a drum and bass single called Trans-Am, which Peel played on his show. It is not certain whether he knew The Shamen were behind this single.
Festive Fifty Entries
Sessions
1. Recorded: 1986-12-14. First broadcast: 13 January 1987. Repeated: 09 February 1987
Strange Day's Dream / Passing Away / Through My Window / Where Do You Go?
2. Recorded: 1988-03-29. First broadcast: 12 April 1988. Repeated: 10 May 1988
Knature Of A Girl / War Prayer / Nothing / Misinformation
3. Recorded: 1989-06-13. First broadcast: 02 August 1989. Repeated: 07 September 1989
Transcendental / What's Going Down / Negation State / Phorward
4. Recorded: 1991-02-12. First broadcast: 23 March 1991. Repeated: 05 May 1991, 01 June 1991
Hyperreal / Make It Mine / Possible Worlds / In The Bag
Other Shows Played
The Shamen, Christopher Mayhew Says, Toad Hall Studios

24 June 1986: Four Letter Girl (7" flexi-disc - Wayward Wednesday In May Affair) Skipping Kitten
Compilation Plays
See Also
External Links
Footnotes
↑ In fact, their debut single, which Peel described as "good stuff", featured a version of Barrett's Golden Hair as a bonus track on the 7 inch only.
Community content is available under
CC-BY-SA
unless otherwise noted.