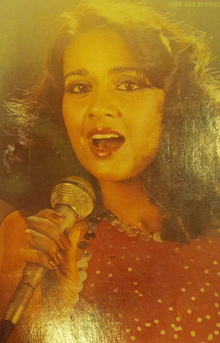 Sharon Prabhakar (sometimes known as Sharon) is an Indian singer and actress born in 1955 with a total of seven albums to her credit. She started her career as a singer during her college days at Lady Shriram College in New Delhi, India and sang at Mood Indigo, before performing in various musicals, notably Godspell, Jesus Christ Superstar, Cabaret and the part of Evita in the musical of the same title directed by the Indian advertisement guru Alyque Padamsee. She was an accomplished stage actress and had been an integral part of the English Theatre scene in Mumbai. Later on in her career she presented a Bollywood programme Kya Scene Hai on Zee TV in 1995. She released several Hindi disco albums in the early 80s to mixed reviews. She has appeared as herself in a couple of Bollywood films apart from being playback singer for several songs.
Links To Peel
Peel was a big fan of records that had foreign language covers of English language pop songs. Amongst them, these included Chinese language covers of Madonna and George Michael: plus Hindi language covers of ABBA by Salma & Sabina. On his show on BFBS (Peel 077 (BFBS)) in 1988, a listener wrote in whether he had any copies of Hindi language songs of ABBA by Salma & Sabina. On this occasion, he did not, but he did have an LP by Sharon Prabhakar covering several pop songs in Hindi: one of them was a cover of Funkytown by Lipps Inc. Apart from the Hindi version of Funky Town, he also played her cover of Bob Marley's No Woman No Cry, re-titled as Hum Aajnabi Hai.
Shows Played
1988
1989
18 October 1989: Hum Aajnabi Hai (No Woman No Cry) (LP - Disco Mastana) Multitone
1993
External Links
Community content is available under
CC-BY-SA
unless otherwise noted.