(This page is about Peel's wife, whom he nicknamed The Pig. For the English musician Raymond Watts whose project is of the same name, see Pig(2)).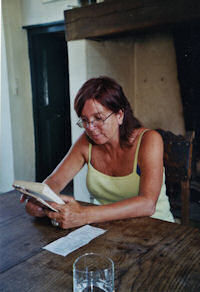 Sheila Mary Ravenscroft (née Gilhooly; born 27 October 1948) is of Irish Catholic descent, and was born in Bradford, Yorkshire. She was married to John Peel from 1974 until his sudden death in 2004. Sheila was training to be a chemistry school teacher when she met him at a BBC television studio in 1968, where he was one of the presenters of a TV show called How It Is. Soon afterwards they began to live together. Peel explains in more detail about how he met her in a BBC interview called Interview: On Meeting Sheila. He also paid tribute to her inflluence on his life on many occasions, for example in an interview in Time Out magazine in 1988:
"I used to have a rather ritzy flat in Harley Street where actresses who didn't act and models who didn't model would come and disport themseves. I used to sit around talking crap and they'd nod and say "wow, that's really groovy". But Sheila, who's from Shipley, would come in and instead of saying "wow, that's really groovy", she'd go "Ee, yer a daft booger!" and I used to think that this was really rather disrespectful, until it dawned on me that she was right. A wonderful woman. I wonder what would have become of me if I'd not met her? Something grim I suspect." (Nick Coleman, "Resounding Peel", Time Out, No. 948, October 19-26 1988; 20th anniversary supplement, pp. 13-14.)
Marriage To Peel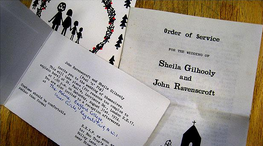 Sheila was often referred to as "The Pig" by Peel, due to her characteristic laugh. They had four children: William Ravenscroft (born 1976), Alexandra Ravenscroft (born 1978; known as Danda), Tom Ravenscroft (born 1980) and Florence Ravenscroft (born 1982; known as Flossie), plus one grandchild called Archie in 2003 from Alexandra and her partner Ashley. Peel and Sheila lived in London when they first met, and later on decided to move to the countryside in Great Finborough, Suffolk, where they lived in a house affectionately called Peel Acres (a name JP had given to anywhere he lived since the 1960s).
In 1996, whilst at the Isle Of Man TT Races with fellow DJ Andy Kershaw, Peel learned that Sheila had suffered a brain haemorrhage and immediately went back to Peel Acres to visit her at hospital. Although Sheila appeared to have made a complete recovery, John was understandably shaken.[1] The following year, she suffered a relapse for some time in which her eyesight began to deteriorate and she became virtually colour-blind: this led to her being unable to drive. [2]
Peel Acres
During their time living at Peel Acres, Sheila decided to be a housewife and often organised trips abroad for young people and took part in the village community's activities (for example, she is a member of the local operatic society) [3]. John also got Sheila involved in his BBC Radio One shows at Peel Acres, especially the Pig's Big 78, where Sheila would announce an old 78 rpm vinyl record before it was played (this segment became so popular among listeners that one suggested she should make it into a roadshow).
After Peel's Death
Since Peel's death in 2004, Sheila has been involved with the John Peel Centre for Creative Arts in Stowmarket, Suffolk, where there is a place for young people to get involved in theatre, arts and music. She's also involved with the Space project, where they aim to record John Peel's Record Collection on their virtual online museum website. Plus she enjoys choir singing and looking after her grandchildren who take up the rest of her time. [4]
In November 2015 Sheila Ravenscroft took part in the BBC Radio series Inheritance Tracks, in which guests select two pieces of music which are important to them; she chose 'Panis Angelicus' by César Franck and 'You Little Thief' by Feargal Sharkey [5].
Mentioned In Shows
In her section of Margrave of the Marshes (p.247), Sheila describes how, when John Walters took over as producer of Top Gear in April 1969, there was a "change of atmosphere". Walters didn't approve of Peel's habit of bringing groups of friends into the studio and threw them all out - but he did allow Sheila to stay, hence the many references to "the Pig" from 1970 on. Peel would also dedicate records to her or play tracks she had suggested ("Pig's Choice").
1968
18 December 1968: Peel explains that he's got a Jews Harp and played it to the 'Great Gilhooly' in Yorkshire over the phone.
1969
09 February 1969: He mentions that when he was stranded by snow near Bradford he'd stayed a couple of days with the Gilhooley family from Shipley.
02 April 1969: Peel dedicates Patrick Sky's "She's Up For Grabs" to Sheila Gilhooly, "recently voted the clumsiest girl in Europe" – a female voice is audible at the end of the Fred McDowell track JP plays, so she may be in the studio.
1970
1971
27 March 1971: Peel mentions after Steeleye Span's Let's Dance, originally done by 

Chris Montez

, that he interviewed the latter in California when working for KMEN radio in the 60's, after he said the Pig has the original version on vinyl.;

Rusty and Doug

: Diggy Diggy Lo (LP - Rusty and Doug Sing Louisiana Man) Hickory (JP: "Laughter from the Pig at my singing….is it that bad?….")
24 July 1971: Peel mentions he's alone in the studio and dedicates a Rod Stewart record to the Pig who is ill in bed
14 December 1971: Peel mentions that Marmalade make good singles and a nice LP and says that their single Cousin Norman was his all time best single which he admitted to sing along with the pig in his flat.
1972
26 October 1972 show intro: Good evening, this is Radio One, on 247 metres medium wave and VHF. Welcome to Thursday's Sounds Of The Seventies, with me, Dancing Jack Peel, Mr Showbiz in person. And today, actually tomorrow in fact, to be honest with you, is the Pig's birthday, so this is a special Pig birthday programme, starting off with some good rock'n'roll for you.
1974
29 August 1974:  JP:...and I have a fairly hectic weekend lined up one way or another in fact in two hours time or less than two hours time now it'll be my birthday, so if you haven't got a present in the mail already, it's too late. I'm sorry about that, and also of course on Saturday, Liverpool are at Chelsea, and the Pig and myself are getting married. And I hope that I can report to you on Tuesday, on Top Gear Part 1, that over the weekend I had me a really good time. In addition,.Bridget St. John performs a song entitled 'Pig & Peel', the lyrics of which she had written herself, and which was obviously dedicated to the couple.
03 September 1974:  This next one's for the Pig's family up there in Shipley because they keep, well racing pigeons in the loft, and whippet in the sitting room and all that sort of thing, and it's called, Walking The Whippet(Andy Mackay: Walking The Whippet (session) announced only)
26 December 1974: Repeat of Carol Concert: "The celebrated Top Gear Carol Concert, God Rest Ye Merry Gentleman, the ensemble, Away In A Manger, Mr. Roderick Stewart, Good King Wenceslas, by the ensemble, featuring Mr. Ronnie Laine, and mr. Robert Wyatt, Silent Night, by Sonia Kristina, and humming by the ensemble, and O Come All Ye Faithful, by the ensemble, with June Child and The Pig on the ladies bits. And it's the Pig that says "Abuve" rather than "above" That's very nice to hear that again."
1975
19 December 1975: Peel sends a personal message to Liverpool FC, asking them to get to the top of the first division before Sheila can give birth to their first child (she has been "holding on to it for about a week.") His team obliged by beating QPR 2-0 at Anfield the following day.
1976
28 December 1976: FF #26 Deep Purple, 'Child In Time (LP–Deep Purple In Rock)' (Harvest) (JP: 'Wake up Pig, it's time to go home....Not sure how that got in there, but it did.')
1978
1979
24 July 1979: Jackson Browne track dedicated to Sheila, as it's a favourite of hers and she hasn't been feeling well.
26 November 1979: Plug for the Festive 50, read by the Pig.
10 December 1979: JP: "Actually, the Pig and I met Esther Rantzen once. Very early one Monday morning when she was doing 'Start The Week'. She was breathtakingly rude to both of us. Been a favourite of ours ever since."
1980
08 January 1980: JP: "This next one's for The Pig... currently expecting child 'C' at the end of the month. Very exciting, very tense you know... will it be Dalglish? You'll just have to wait and see." Madness: My Girl (7" single) Stiff Records
16 July 1980: Peel has a reply to his question about whether any bands come from Shipley (the home of The Pig) in the form of a letter from a band called Heaven Seventeen "..best of good fortune to them.." This would not have been THE Heaven 17 who were from Sheffield and formed in late 1980/early 1981 after The Human League split. The name was first used by Anthony Burgess in his novel "A Clockwork Orange" as the name of a fictitious pop group.
27 October 1980: As a birthday treat, Peel had taken Sheila to Anfield over the weekend to watch Liverpool v Arsenal. Afterwards they had met Kenny Dalglish.
1981
09 March 1981: (JP: 'I had to leave home earlier this evening drive away from the mountain fastness of Peel Acres with the flood waters lapping at the door but this is the price you have to pay if you are in show business… so this is for the pig who is stuck there probably by now the flood waters are up to the second storey.')
05 September 1981: Forest: Graveyard ("the only band who lived with, and off, myself and the Pig that I actually liked") (LP: Full Circle, Harvest)
1982
23 February 1982: Peel reveals he and Walters shared a table at a TV event with "one of my favourite bands" - and he gave the singer a kiss and a cuddle (after asking permission). Says he felt like her dad. Later says that Sheila has just called him a "silly cow" on the phone - the reason is not explained.
14 October 1982 (TOTP): On his radio show that night John Peel announced of that evening's appearance "If you were watching Top Of The Pops, the Pig chose that jumper for me. I thought I looked kinda cuddly myself, but er, I won't take a vote on it."
30 November 1982: A Flock Of Seagulls: Talking (7") Cocteau Twins (JP: "How well I remember when the Pig and I, and indeed Bill Nelson, saw them playing at a pub outside Leeds somewhere. These days of course they play at football stadiums in America full of dreadful people who yelp and howl as the bands play and light matches and things when they finish...")
1983
16 February 1983 (BFBS): Peel reveals that Sheila does not like the Alan Vega track, which he agrees with.
22 August 1983: Peel mentions that the Pig rang up to say that he was in a children's comic called the Bunty.
13 September 1983: JP: "The Pig always really rather dreads our winning the pools, which is unlikely to happen. We've budgeted for it already, of course. But she knows perfectly well that if we did win I should spend most of the money on recording bands. I mean, I'd really like to have a record by 3D, I must say."
1984
03 April 1984: Peel mentions taking photos of the Pig with road signs next to her.
17 December 1984: (JP: 'This is for the Pig, one of our all-time favourite records.') Keith Hudson: Nuh Skin Up (format?) Greensleeves Records
1985
1986
1987
14 January 1987: Peel mentions that the Pig rang to say that Flossie, their daughter can't sleep, and is listening to the show, whilst having a bedtime story told to her by the Pig. He then dedicates a record to her by playing Pop Will Eat Itself.
26 January 1987: Peel reveals that his wife, the Pig doesn't like the music of Gene Vincent.
02 February 1987: Peel has noticed that in recent programmes, he's been talking fast and his wife, The Pig, has noticed it at home.
16 February 1987: Peel mentions receiving four valentine cards this year. He mentions one came from Katherine of Hanwell, another from an unknown writer of Truro, the Pig and the Groove Farm.
23 February 1987: JP: "At our house we have a new favourite record. It's not a new one at all, actually, it's old, but it's been growing on us over a long period of time and now we can't get through the day without hearing it several times. In fact the Pig sings it and rather well without knowing the words at all. Here it is." Bhundu Boys: Hupenyu Hwangu (LP - Shabini) Discafrique
02 March 1987: Peel dedicates the Cate Bros. track to the Pig.
04 March 1987: Peel dedicates a Ben E. King record to the Pig.
09 March 1987: Peel mentions him and the Pig play jokes when shopping by having her tell him 'speak up you stupid man' and saying to his son William in the car that his dad and mum are not married and that his father is an impostor named Andrew.
24 March 1987: Peel dedicates a track to the Pig called Little Sheila from Laurel Aitken.
31 March 1987: Peel dedicates the

Ella Washington

track to the Pig.
06 April 1987: (JP: 'And the Smiths as you know have already recorded a song about William and the new one is about Sheila, which is the Pig's real name, so there is only only Thomas, Florence and Alexandra to go, here it is')
22 June 1987: Peel mentioned the Pig enjoyed listening to

Sweet D

's Crazy D track.
06 July 1987: Peel mentions the Pig and the 3 children had a car crash, but all of them were alright.
07 July 1987: Peel mentions talking to the Pig about his son William taking his first alto-saxophone lesson.
13 July 1987: Peel dedicates a Jackson Browne record to the Pig.
14 July 1987: Peel mentions last week that the Pig and three of the children were hurt in a car accident, which his son William got a black eye and she was bruised and the car written off.
28 July 1987: Peel mentions that the Pig has said William unprecedented bought sweets for Thomas with his own money, which JP thinks won't last long, but is a step in the right direction.
31 July 1987 (Radio Bremen): Peel reveals that his favourite track on the Bhundu Boys latest album, is Kupedza Moto, which his wife Sheila enjoys as well.
31 July 1987 (Radio Bremen): Peel says his and wife, Sheila's, all time favourite Freiwillige Selbstkontrolle track is My Funny Valentine, which he plays on the show.
04 September 1987 (Radio Bremen): Peel mentions his house at Peel Acres has been flooded, because of the weather. He also reveals that his wife, Sheila, has 3 sisters and one of them lives in Hong Kong married with two children, who comes to Britain every 18 months, and she was staying at the house, with the other sisters and families.
22 September 1987: Peel reads a letter from James from Northern Ireland, who states that he played Black Dog by

Babe Ruth

last Tuesday and wants to know any info about releases from the artist, but JP mentions that he has never played the record, until he called the Pig to confirm it and she mentioned to him that he did play it.
19 October 1987: JP: "The excellent Big Black of course from the LP with the title I can't give out on the radio, that's The Power Of Independent Trucking and almost did actually and where are we, let's see, in one week and three minutes time, it will be the Pig's birthday and I propose nothing at all, here's a rather beautiful record for her, should she be listening, from the Five Keys, this Is Close Your Eyes. I particularly like the bit where they say take a deep breath and go 'haa', anyway you see what I mean, Close Your Eyes"
21 October 1987: (JP: 'Not what you call an easy listening I suppose, that's the Dustdevils and that comes from The Dropping Well EP on Rouska records and that was Mother Shipton and what was I going to say to you, something quite riveting at this point, oh yes my thanks to a Billy Mackenzie from Port Glasgow, for sending me birthday wishes for the Pig, whose birthday is next Tuesday. She's the one who ought to be actually on Jonathan Ross' programme and Wogan and so on.')
21 October 1987: Peel dedicates the

Clovers

' Blue Velvet track to the Pig.
27 October 1987: Peel mentions at the beginning of the show that it is the Pig's birthday and dedicates a Leonard Cohen track to her.
02 November 1987: JP: "Before going off to do my gig last Saturday, it was a bit embarrassing because the records that I use for these occasions, beautifully chosen as you might imagine, were left in somebody else's house, for reasons a bit too complicated to go into here and not particularly important anyway, and the people who own the house went away for the day and obviously they didn't tell us because they didn't know I needed the records. So eventually, just before leaving, they hadn't come back and we had to break into the house. This is the pig, and the pig's sister and myself. Effect a burglarious entry as they used to say at one time - probably still do in certain circles. So this is for Ray and Barry with my apologies."
16 December 1987: Peel mentions that his dog urinated on his wife Sheila's shoe after playing a pig encourager tune earlier on the programme, after having car problems.
1988
1989
1990
1991
1992
1993
1994
14 January 1994: (JP ..and this is C6H12O6.and The Pig who used to teach chemistry tells me that's glucose.)

Skinned Teen

: 'C6H12O6' (Peel Session)
05 February 1994 (BFBS):

N-Trance

: Turn Up The Power (12") All Around The World. John prefers his dance music without words but this was the version Sheila liked to dance to...
1995
1996
1997
01 February 1997: John plays a track from the 1971

Moonkyte

LP 'Count Me Out ' and is horrified to find he wrote the sleeve notes: 'They are truly terrible ... When I tell you that I refer at one stage to the Pig as 'my lady', that will give you a kind of clue as to the way they were written. Some extraordinary patronising remarks about Bradford, which is where Moonkyte came from.'
16 February 1997: Peel mentions a listener on a fax enjoying his Channel 4 documentary (Travels With My Camera: Autobahn Blues) on his visit to Germany. The fax then mentions the listener saying that someone at work thought Peel looked like James Whale. Peel mentions that it is the second time that people think he looks like James Whale, which prompts him to say that he finds it wounding. He then goes to say that he's tempted to shave of his beard, but said if he did this, the Pig would leave home.
04 March 1997: Peel says that his producer Alison likes the

Butterflies Of Love

's Rob A Bank track, but his wife, the Pig, was not that keen, when he played it to her couple days ago.
05 March 1997: Peel mentions staying at the Royal Hotel in Whitby with the Pig, where a coach load of pensioners thought he was one of them.
06 March 1997: Peel dedicates a

Falcons

song to the Pig.
02 April 1997: (JP: 'And this one is for the Pig.') Four Brothers: ' Vimbayi (CD – Hits Of The Four Brothers Volume 2 )' Gramma Records
08 April 1997: Peel dedicates a Four Brothers record to his wife.
16 July 1997: Peel dedicates the

Snug

record to his wife.
22 October 1997: Peel mentions the Pig picking the L.S.G.'s Hidden Sun Of Venus record as her pick of the day.
23 October 1997 (BFBS): (JP: 'An exciting moment at Peel Acres here last night, because my wife Sheila and myself actually managed to read out our first email address (I had a lot of stuff diverted here from other places where I work). I'm not up to speed with the technologies, as I pointed out before on these programmes, but we got our first email that we could actually read, and it's from our son William. As soon as we learn how to send one back again, what I'll do is pass on the address to you the listener to John Peel's Music On BFBS, so you can just, instead of having to send things through the head office as it were, you can just get in touch with me directly. That's pretty good, isn't it? I can't see anything wrong with that.')
27 November 1997 (BFBS): Wedding Present: 'A Million Miles' (JP: 'Well, that brought Sheila into the room, bearing satsumas and dancing a little bit.')
04 December 1997 (BFBS): Thomas Mapfumo & The Blacks Unlimited: 'Buka Tiende (Compilation CD-The Rough Guide To The Music Of Zimbabwe)' (World Music Network) (JP: 'That was one for Sheila, this is one for me.') Duane Eddy: 'Movin' N' Groovin' (LP-Surfin')' (Jamie)
23 December 1997: (JP: 'Only one person's had two choices of records in this programme, which goes on till 10.30 on Radio 1, and that's Sheila, my wife, aka The Pig. I'm glad she only had one choice of husband. Here are her two choices back to back.') Vinyl Junkie: 'Can't Forget (12 inch)' (Junkie Vinyl) &

Velodrome 2000

: 'Charity Shopping (7 inch EP-Charity Shopping)' (Popstar)
1998
1999
2000
2001
2002
2003
2004
January 2004 (FSK): Peel mentions that when his wife Sheila comes in the room, he always makes a mess with the DJ links.
See Also
External Links