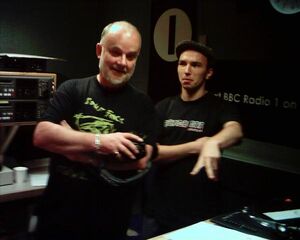 Shitmat
was the performing name of Henry Collins, an experimental sound artist from
Brighton
, who described his music as
mashcore
, rather than
breakcore
. 
The Shitmat sound is a combination of splintered jungle, rave, old school, gabber and plunderphonic mashups.  His music is known for the humorous use of samples atypical of "serious" electronic artists and deliberate use of clichés. 
On November 19, 2012 Shitmat completed his Web based Mash Hits project in which he remixed every UK number one single since 1952. Creating 293 new tracks from over 1200 number one singles. At the end of 2012, he announced he was to kill off his
'Shitmat'
moniker, stating
"It's basically time for me to move on, progress, evolve and let the other music I make take the front seat. I've always enjoyed experimenting with humour and heavy music but for me, I'd like to launch and explore some of my other projects and ideas"
. On the same day he released a new album under the name
Tafkas
on Love Love records. 
Links To Peel
Peel played Shitmat's first ever single on 06 May 2003 a day after its release on Planet Mu Records. In an interview with Digital Fix Music in 2009, Collins recalled: [1]
"I was shocked, excited and laughing a lot. I really could not believe it. It meant so much to me and I still have the recording on cassette. The day after my first Shitmat 7" 'Shopliftin' Gabba' was released, he opened his show with it. It had a locked groove at the end of the record and he let the bagpipe loop play while he talked and introduced the next track."
Peel continued playing his music and invited him to do a mix exclusive for his show, which was broadcast on 26 August 2004 after Peel's show failed to get broadcast on BBC Radio One, when the lines to Peel Acres failed. After Peel's death in 2004, Shitmat again in the same interview with Digital Fix Music in 2009 commented:
"I was sad, upset and felt a real sense of loss. I think most listeners of his show felt that music/radio would never be the same again. His was the only radio show I listened to and looked forward to. As a positive reflection to his death I started up a record label 'Wrong Music' to promote interesting new music as I thought the world had lost a true voice for it."
Sessions
Two sessions only. No known official release.
1. Recorded: unknown, own studio. First broadcast: 26 August 2004.
2. Recorded: Peel night live. First broadcast: 16 December 2004.
Festive Fifty Entries
Other Shows Played 
2003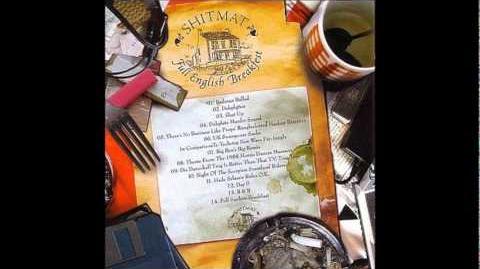 2004
External Links
Community content is available under
CC-BY-SA
unless otherwise noted.