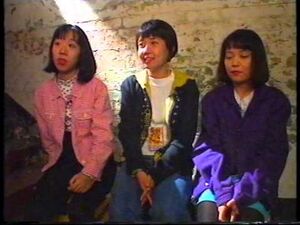 Shonen Knife
, written in Japanese as
少年ナイフ
, which transliterates as Shōnen Naifu, literally
"Boy Knife"
, is an all-female Japanese pop-punk band formed in Osaka,
Japan
, in 1981. Heavily influenced by 1960s girl groups, pop bands,
The Beach Boys
, and early punk rock bands, such as the
Ramones
, the trio crafts stripped-down songs with simplistic lyrics sung both in Japanese and English. Despite their pop-oriented nature, the trio maintains a distinctly underground garage rock sound rooted in edgy instrumentation and D.I.Y. aesthetics, which over the course of their long career has earned them a solid, worldwide cult following and made avid fans out of seminal '90s alternative rock bands such as
Sonic Youth
,
Nirvana
, and
Babes In Toyland
. The band has been credited with making the international pop underground more international by opening it up to bands from
Japan
. They have also performed as a Ramones tribute band under the name The Osaka Ramones.
Links To Peel
Peel seemed to discovered the band in the mid-80's, when on his 25 March 1986 show, he could not recognise a Japanese track, which was written in Japanese. The song turned out to be Miracles by Shonen Knife. The group didn't get a chance for a session on Peel's show until the early 90s, despite Peel regularly playing them and seeing them live on tour with Nirvana. The DJ also gave airtime to cover versions of Shonen Knife songs from the Every Band Has A Shonen Knife Who Loves Them compilation LP, including contributions from Babes In Toyland and Sonic Youth.
After 1992, however, Peel seemed to lose interest in the group, after they were signed to major record labels and their sound became more commercial.
After Peel's death, the group performed at the John Peel Centre in 2013. Singer and guitarist Naoko Yamano commented:
"I remember we had John Peel sessions twice. I had no chance to see him directly. I was very honored to do the sessions. He even played our song A Day At The Factory in the early 1980s on his BBC radio program. At that time, our albums were released just in Japan and I'd never been overseas. I was surprised about it. I'd like to have thanked him." [1]
Sessions
Shonen Knife - John Peel Sessions (Tribute to Shonen Knife with Videoshow)

Two sessions. Both sessions are found on an unofficial cassette release of the Peel Sessions 1991-92
1. Recorded: 1991-12-08. Broadcast: 25 January 1992. Repeated: 03 April 1992, 18 July 1992
Flying Jelly Attack / Watchin' Girl / Tortoise Brand Pot Cleaner's Theme / Antonio Baka Guy / Boys / Chinese Song
2. Recorded: 1992-09-01. Broadcast: 02 October 1992. Repeated: 28 November 1992
Get The Wow / Animal Song / Ice Cream City / Elmer Elevator / I Am A Cat
Other Shows Played 
(This list was compiled only from the database of this site and Lorcan's Tracklistings Archive. Please add more information if known.)
1986
1987
1988
1989
1990
1991
1992
Others
Covered
(The list below was compiled only from the Cover Versions page of this site. Please add more information if known.)
Artist | Track | First Known Play
External Links
Community content is available under
CC-BY-SA
unless otherwise noted.