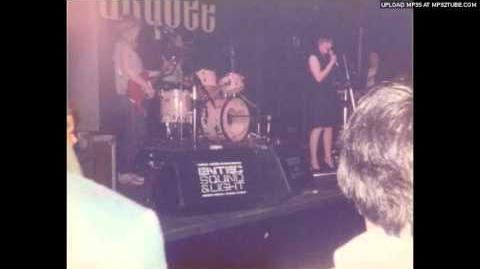 Short Commercial Break was a band created by Cursty (Christiane Kistner) in 1980, who was Captain Sensible's girlfriend at that time.
Captain Sensible
was previously in the
Damned
and
Johnny Moped
. Short Commercial Break consisted of Cursty (guitar and backing vocals), Effie (drums), Bernie (vocals), Allam (bass) and Captain Sensible (guitar dubs). The band only did covers of UK TV advert themes including Oxo, Yorkies, Smarties and Bran Flakes. They split up sometime in the early 80's.
Links To Peel
The band only made one session for Walters' Weekly and this was repeated on Peel's show in 1982. This was probably the only time on Peel's show or on the BBC where music promoting products were allowed: consequently JP avoided giving the titles of the songs. The session broadcast all together lasted 5 minutes, as the songs were less than two minutes each, some even less than a minute.
Sessions
1. Recorded 1982-08-14. Broadcast: 14 October 1982. Repeated: 16 November 1982
Bran Flakes / Oxo / Smarties / Yorkie
Other Shows Played
Currently there are no other recordings of the band on this site apart from the session.
External Links