Sierra Leone officially the Republic of Sierra Leone, is a country in West Africa. It is bordered by Guinea on the north, Liberia in the south-east, and the Atlantic Ocean in the south-west. Sierra Leone has a tropical climate, with a diverse environment ranging from savannah to rainforests. Sierra Leone has a total area of 71,740 km2 (27,699 sq mi) and an estimated population of 6 million (2011 United Nations estimate). Sierra Leone is divided into four geographical regions: the Northern Province, Eastern Province, Southern Province and the Western Area, which are subdivided into fourteen districts. Freetown is the capital, largest city and its economic and political centre. Bo is the second largest city. The other major cities are Kenema, Makeni, and Koidu Town.
Links To Peel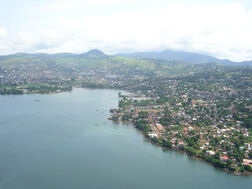 Peel visited the country in November 1989 with Sheila and Dave Tate from the BBC World Service in conjunction with the British Council, as a replacement for Dave Lee Travis, who didn't want to go, due to his fear of flights. On his 21 November 1989 (Radio Bremen) show, Peel mentioned that he doesn't like flying either, but didn't want to miss an opportunity in visiting the country.
According to Margrave Of The Marshes, Peel visited the university and did a question and answer session with the students and Sheila herself mentioned that it was quite an upsetting trip where a level of poverty left them physically shakened. She also noticed that the couple did not see any elderly people, due to very few people living beyond forty.
After his trip to Sierra Leone, Peel was determined on his 22 November 1989 show to help artists from the country to get recordings after his visit. In December 1989, Peel broadcasted a session from a Sierra Leonean musician named Big Fayia, that was recorded by the British Council in the capital Freetown in November 1989, where he was present.
In the 90's, Peel started to promote more artists from the country including Dr. Oloh and S.E. Rogie.
Sessions
The following artists from Sierra Leone recorded sessions for the John Peel Show:
Compilations
(Tracks played by Peel from various artist (v/a) compilations featuring music from Australia. Please add more information if known.)
(LP - Sierra Leone Music) Zensor
(cassette - African Elegant - Sierra Leone's Kru / Krio Calypso Connection) Original Music
See Also
External Links
Community content is available under
CC-BY-SA
unless otherwise noted.