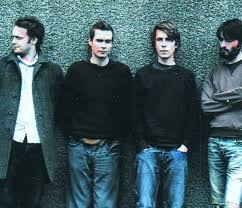 Sigur Ros
(Icelandic:
Sigur Rós
) are an
Icelandic
post-rock band from Reykjavík, who have been active since 1994. Known for their ethereal sound, frontman Jónsi Birgisson's falsetto vocals, and the use of bowed guitar, the band's music is also noticeable for its incorporation of classical and minimalist aesthetic elements. The band is named after Jónsi's sister Sigurrós Elin. In the Icelandic language, 
Sigur and Rós mean, respectively, Victory and Rose. (more on wikipedia)
Links To Peel
Peel started playing their music in 1999, when the band released their first single on import called Svefn-G-Englar, which on 31 October 1999 (BFBS), he played on his show. The band were invited for the All Tomorrows Festival at Camber Sands in 2000, where Peel played two songs from their live performance in April 2000 and a session in that same year on his show, but seemed to have lost interest in them after 2001.
Festive Fifty Entries
Sessions
1.. Recorded: 2000-08-20. First Broadcast: 26 September 2000
Track 1 (Big) / Track 2 (Bureaucratic) / Corporation (Cold)
Live
11 April 2000. Recorded 2000-04-09, live at All Tomorrow's Parties at Camber Sands.
Njósnavélin (The only track played on Peel's show)
Duet
E-Bow
Svefn-g-englar
Dauðalagið
Other Shows Played
(The following list was compiled only from the database of this site and Lorcan's Tracklistings Archive and is certainly incomplete. Please add further details if known.)
2000
2001
29 August 2001: Death Announcement Funerals (LP - Angels Of The Universe) Fat Cat
External Links