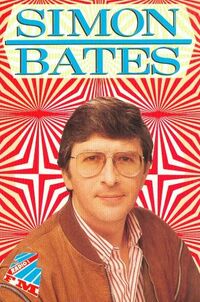 Simon Bates is a British radio broadcaster who was a colleague of
John Peel
at Radio One from
1976
to
1993
.
Relationship with John Peel
Many of the DJs of the era were extremely competitive with one another, most - Bates in particular - treating their peers with contempt[1]. Although he didn't share their ambitions, Peel's extremely different priorities with regard to his radio work meant that he clearly had little respect for many of his colleagues, with Simon Bates being among his least favourite. Ironically, Peel had taken something of a shine to Bates in 1972, when he first turned up at Radio 1 as a newsreader (Margrave Of The Marshes, p. 328-9).
Peel: [At one Radio 1 Christmas Party] Kid Jensen, Paul Burnett and myself... not a carefully honed fighting team, but nevertheless filled with drink... we went down and waited in the underground carpark at the BBC for the opportunity to beat up Simon Bates. Fortunately he didn't turn up, or we might have suffered an embarrassing reverse, as he's probably stronger than us.[2][3]
Peel (having been invited to a fancy-dress party the previous evening): I was going to go as Simon Bates but I couldn't find anybody to wear the other face.[4]
Peel : I can't use that word on the radio...let's put 'Simon Bates' in there. "A record of your choice for all of the Simon Bateses on the second floor of the Cavendish Art And Design Building at Manchester Poly.[5]
The Simon Beast legend
Peel often referred to Bates as the Beast of Radio One[6] and as Simon Beast. [7]
Peel : Next week's TOTP is introduced by Tommy Vance and by Mike Smith. Jensen : Hey, a case of, er, beauty and the beast, eh? Peel : Simon Bates coming along as well is he then?[8]
Peel : Simon Beast is in the process of being pushed in a bed from Blackpool to Scarborough by gangs of miners...don't ask me why...[10]
Broadcast from mine
When Bates presented his show live from the Prince of Wales Colliery, Pontefract on 30th March 1979 (the day after the vote of no confidence that brought down the Callaghan government), Peel also turned up, despite his clear dislike for Bates, because of his interest in coalmines. Exchanges between the two were mostly on the lines of:
Peel: "And those poles seem to have been split in two - it's reassuring they haven't fallen on top of us, really."
Bates: "Could bring the show to an end prematurely!"
Peel (slightly off mic): "Well, there's one consolation."2004 rerun of this show
Panto
A favourite story, also recounted in Margrave Of The Marshes (hardback, pg 330-1), is about the time Peel and Andy Kershaw travelled to High Wycombe to see Bates in a panto.[1]
JP: And we went to the panto, didn't we, over the holiday season? Do you want to talk about the panto?
AK: Uh, do you think he'll sue us if we do?
JP: No, I think ... because obviously going to a panto is not as yet anyway an illegal act - unless of course you're an unmarried mother! In which case, don't try it, sister!
AK: Where were we? High Wycombe...
AK: The Swan Theater or something...
JP: Something like that, yeah.
AK: ...High Wycombe, to see a production of Aladdin.
AK: Starring... It was like being on drugs, wasn't it?
JP: Well, I wouldn't know, Andy.
AK: Starring Simon Bates as the villain, whatever he was.
JP: How could you possibly forget? We drove...
AK: The supporting performers were Bungle, Zippy and George from Rainbow!
JP: And the woman policeman out of – well, the policewoman, I guess – out of The Bill, who was kind of doing a song and dance. She was Aladdin, wasn't she? Was she Aladdin?
AK: That's right, she was Aladdin, yeah.
JP: So it was altogether most bizarre. A 250-mile round trip I made in order to see that.
AK: But worth it, though, just to see Aladdin holding that dagger at Simon Bates's throat!
AK: And hear the audience genuinely baying for blood![2]
JP: Well, I think it is probably still running for a couple more weeks, listeners. So if you'd like to make your way to High Wycombe, I imagine they have probably got one or two seats left. It's well worth the effort. Uh, right, this is Rancid Hell Spawn and another track...
JP: I'll fade you out so I don't have to put up with your giggling. Rancid Hell Spawn and another track from their LP Axe Hero. This has the...
Top Of The Pops
Simon Bates appeared as a co-host with Peel in occasional, multi-DJ episodes of
Top of the Pops
during the 1980s. They never appeared as joint hosts, which was not surprising given Peel's thinly-veiled dislike for his colleague. The closest they came to hosting the show together was the
23 June 1983
program, when Bates was in the studio while Peel delivered the European chart from Amsterdam.
Links
References
↑ Transcription is from 01 January 1994, also available on mixtapes Peelers and Peel: Miscellaneous Amusing Clips And Anecdotes.
↑

According to Sheila, with the knife at Bates's throat, Kershaw had yelled out, "Oh, for God's sake, do it!"