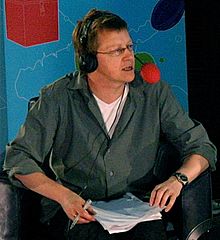 Simon Andrew Hicks Mayo (born 21 September 1958) is an English radio presenter who has worked for BBC Radio since 1981, working for BBC Radio One between 1986 and 2001 and later on for Radio 5 Live. Mayo was the presenter of Simon Mayo Drivetime on BBC Radio 2 between 2010 and 2018 and with Mark Kermode, presenter of Kermode and Mayo's Film Review on BBC Radio 5 Live. Mayo is beginning work on a revamped drive time show on Radio 2 with Jo Whiley from 14 May 2018.
In 2008, Mayo was recognised as the "Radio Broadcaster of the Year" at the 34th annual Broadcasting Press Guild Awards and the "Speech Broadcaster of the Year" at the Sony Radio Academy Awards, receiving the latter for his "ability to paint colourful pictures of location and event and his ability to bring the very best out of his guests, encouraging conversation and interaction between them while skilfully nudging and controlling them" and for being "a master of light and shade, handling serious and lighter issues with aplomb."
Mayo is the author of several books, including the acclaimed Itch trilogy of thrillers for younger readers. He is one of the highest paid BBC radio presenters.
Links To Peel
Peel appeared several times on Simon Mayo's show, including in 1993 on the Big Holy One, where he was asked quick fire questions on his religious beliefs and the other in 1996 as God Of The Week, on a similar format.
In 1999, Simon Mayo did a 37 hour non-stop DJ performance, where he joined with Peel on his show, telling the DJ that he first heard the Eagles on his programme back in 1978.
Peel would often call his telephone at the BBC, the Mayo line, named after Simon Mayo and both DJ's complemented each other during their time at Radio One.
External Links
Community content is available under
CC-BY-SA
unless otherwise noted.