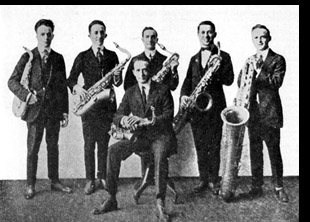 The Six Brown Brothers were a Canadian vaudeville era saxophone sextet consisting of six brothers. The brothers comprising the Six Brown Brothers were, William, Tom (1881–1950), Alec, Percy, Fred, and Vern Brown. The Brown Brothers lived in Lindsay, Ontario until 1893. The band was led by Tom Brown, and the first instrumentation consisted of a saxophone quintet (bass, baritone, tenor, and 2 alto saxes. A soprano sax was never used with the group, except as a feature for Tom Brown). The group began working at circuses, and later worked in minstrel and vaudeville shows, and then on Broadway. In 1913, they added a second baritone sax. The group toured in 1912-14 with Primrose and Dockstader's Minstrels, and later to Scotland and elsewhere in Europe. Additional non-family members also played with the group.
Between 1911 and 1920 the brothers recorded a number of well-known songs, including "Walking the Dog" and "The Darktown Strutter's Ball". Until 1914, while they worked in vaudeville and traveling minstrel shows, the Brothers were multi-instrumentalists, but in 1914 they dropped their trombones, baritones, cornets, bells, rattles, and marimba to specialize in the saxophone. Tom claimed that the group had initiated the saxophone craze that began around 1914 and culminated in the instrument's omnipresence in American popular music of the 1920s and 1930s. Though acclaimed as saxophonists, the Browns owed much of their fame to the comic talent of Tom, who did blackface pantomime and wrangled many extramusical sounds from his alto, especially a kind of wordless speech that is documented in a 1927 Vitaphone short.
Links to Peel
In retrospect, the Brothers' main contribution to jazz was the popularising of the saxophone, despite several of their items being described as such. Their Peelenium selection for 1917, Smiles And Chuckles, is subtitled A Jazz Rag, for example, but at the time many other records more deserving of the title were emerging.
Festive Fifty Entries
Sessions
Other Shows Played
External Links