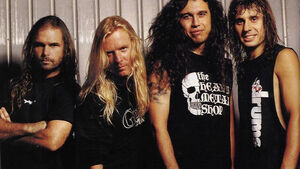 Slayer
is an American thrash metal band formed in Huntington Park, California in 1981 by guitarists Kerry King and Jeff Hanneman. The band rose to mainstream fame with their 1986 release Reign in Blood, and is credited as one of the "Big Four" thrash metal acts, along with
Metallica
,
Megadeth
and
Anthrax
.  Slayer's musical style involve fast tremolo picking, double bass drumming, and shouted vocals. The band's lyrics and album art, which cover topics such as serial killers, necrophilia, Satanism,
religion
, anti-religion, and warfare, have generated album bans, delays, lawsuits and criticism from religious groups and the public. Their music has been highly influential, often being cited by many bands as an influence musically, visually, and lyrically.
Links To Peel
Peel seemed to start playing some tracks of Slayer on his show in 1987 and even mentioned hearing another track from them on Annie Nightingale's show on 01 August 1988, while driving his car. After 1988, there has been no record of him playing any further material of the band.
Other Shows Played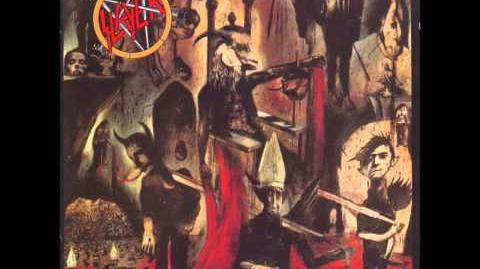 (The following list was compiled only from the database of this site and Lorcan's Tracklistings Archive and is certainly incomplete. Please add further details if known.)
1987
1988
See Also
External Links