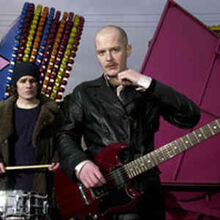 Sluts of Trust are a two-piece rock outfit from Glasgow, Scotland, originally comprising John McFarlane (guitar, vocals) and Anthony O'Donnell (drums). O'Donnell was later replaced on drums by Roo Harris. The band were formed in the summer of 2002 by John McFarlane and Anthony O'Donnell, after a wild three-day party, which became known as the Pirate Weekend. McFarlane and O'Donnell had first met as teenagers at Scottish Youth Theatre's Summer Festival in 1995. In the intervening years, both had begun aborted courses at Glasgow University and Cardonald College respectively, and had enjoyed limited success with separate musical projects.
(Read more on Wikipedia)
Links to Peel
Peel played the group's debut single, Piece O' You, which was limited to 1000 pressings that was sold out within a week of its release. The single was champion by the DJ and was voted at number 16 in the 2003 Festive Fifty. With their debut album nearing completion, in early 2004 Sluts of Trust travelled to the BBC's Maida Vale Studios in London to record a session for John Peel's show on BBC Radio 1. The band also recorded a content disclaimer for Peel's show which was broadcast on the date when their session was transmitted. Peel had become a huge fan of the group since hearing their debut single in 2003 and continued to champion the duo until his untimely death in 2004. After his death, Leave You Wanting More peaked at number 5 in the 2004 Festive Fifty.
Festive Fifty Entries
Sessions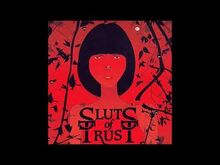 1. Recorded: 2004-01-15. First Broadcast: 17 February 2004
Greatest Gift / Tighter That The Night / That's Right That Cat's Right / Psycho Killer
Other Shows Played
2003
2004
External Links