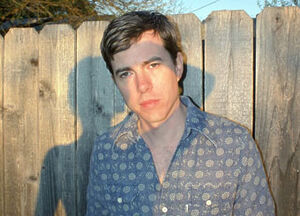 Bill Callahan (born June 3, 1966) is an American singer-songwriter and guitarist who has also recorded and performed under the band name Smog. Callahan began working in the lo-fi genre of underground rock, with home-made tape-albums recorded on four track tape recorders. Later he began releasing albums with the label Drag City, to which he remains signed today.
Callahan started out as a highly experimental artist, using substandard instruments and recording equipment. His early songs often nearly lacked melodic structure and were clumsily played on poorly tuned guitars, resulting in the dissonant sounds on his self-released cassettes and debut album Sewn to the Sky. Much of his early output was instrumental, a stark contrast to the lyrical focus of his later work. Apparently, he used lo-fi techniques not primarily because of an aesthetic preference but because he didn't have any other possibility to make music. Once he signed a contract with Drag City, he started to use recording studios and a greater variety of instruments for his records.
Links to Peel
Smog was played regularly by Peel on his shows throughout most of the 90's and 00's. The artist also did three sessions for Peel's programmes and listeners voted two of Smog's songs in the 1999 and 2000 Festive Fifties. In 2003, Peel made Smog's Supper album as one of his albums of the month for April 2003 (Peel's Record Box).
Festive Fifty Entries
Sessions
1. Recorded: 1994-11-20. Broadcast: 06 January 1995
My Family / A Jar Of Sound / My Shell / Your New Friend
2. Recorded: 1997-10-14. Broadcast: 12 November 1997
Chosen One / I Break Horses / Moonshiner / Wine Stained Lips
3. Recorded: 2001-12-10. Broadcast: 03 January 2002
Cold Discovery / Dirty Pants / Beautiful Child / Jesus
Other Shows Played
1991
1992
08 August 1992: Bad Ideas For Country Sounds I (album - Forgotten Foundation) Drag City
28 August 1992: Filament (album - Forgotton Foundation) Drag City
1994
1996
1997
1999
2000
2002
2003
External Links
Community content is available under
CC-BY-SA
unless otherwise noted.