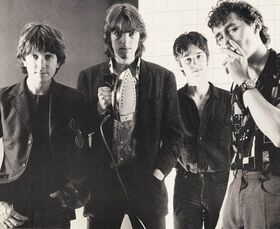 The Soft Boys
were a rock band led by Robyn Hitchcock primarily during the 1970s, whose initially old-fashioned music style of psychedelic/folk-rock became part of the neo-psychedelia scene with the release of
Underwater Moonlight
.
The band formed in 1976 in Cambridge, England as Dennis and the Experts comprising Robyn Hitchcock (guitar), Rob Lamb (half-brother of radio host and author Charlie Gillett) guitar, Andy Metcalfe (bass), and Morris Windsor (drums). Alan Davies replaced Lamb after only four gigs late in 1976, and Kimberley Rew eventually replaced Davies. Matthew Seligman replaced Metcalfe in 1979.
The band broke up in 1980 but briefly re-formed for a UK tour in 1994 and then again in 2001 for the 20th anniversary of Underwater Moonlight and the release of a new album, Nextdoorland in 2002. They disbanded once again in 2003.
Links to Peel
Robyn Hitchcock, the frontman of The Soft Boys, was often very vocal about his influences that included a lot of Peel favorites, such as Captain Beefheart, Syd Barrett, The Beatles, Bob Dylan and Roxy Music. Although the DJ followed the band throughout their brief career, playing tracks from both their records as they came out, he later admitted that they weren't one of his favorite bands: on 17 May 1983 he openly stated he was never a fan of them and on 03 February 1989 he added that he found them "clever" in a "knowing" way.
Sessions
Other Shows Played
(Please add more information if known)
1970s
1980s
Others
Robyn Hitchcock solo
Cover Versions
(The list below was compiled only from the Cover Versions page of this site. Please add more information if known.)
Artist | Track | First Known Play
External Links
Community content is available under
CC-BY-SA
unless otherwise noted.