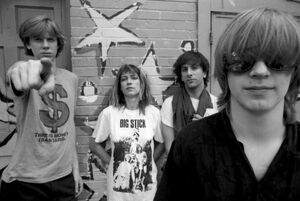 Sonic Youth were an American rock band from New York City, formed in 1981. Their final lineup consisted of Thurston Moore (guitar and vocals), Kim Gordon (bass, vocals, and guitar), Lee Ranaldo (guitar and vocals), Steve Shelley (drums), and Mark Ibold (guitar and bass). In their early career, Sonic Youth were associated with the No Wave art and music scene in New York City … (read more at Wikipedia)
Links To Peel
Sonic Youth were among the artists chosen by Peel to take part in the 1998 Meltdown festival. The band had been played on his show as far back as 1983 and recorded three sessions during the 1980s, including one devoted to Fall covers (although one song had originally been by the Kinks before being tackled by Peel's favourite band). JP appreciated Sonic Youth's liking for unexpected covers and played several by them during his July 1991 cover version shows, including one of a Madonna track by side project 'Ciccone Youth.'
Before the New York outfit signed to a major at the end of the 1980s, Sonic Youth records were released in the UK by Blast First, with the band helpfully introducing many fellow veterans of the US alternative circuit to the Mute Records rock offshoot, which was subsequently described by Peel as "the most important label of the age".
Sonic Youth's biggest success in the Peel show's annual listeners' chart was 'Tunic (Song For Karen)', which placed #5 in the 1990 Festive Fifty, and it was perhaps fitting that their final entry should be 'Superstar', a Carpenters cover that reached #47 four years later. In 1995, it was also among Peel's video selections in Ten Of The Best for VH1.
On 30 May 2001, in reply to a listener who asked if the band could be invited to do another session, Peel replied:
"The last time that we tried to book them to do a session when they came over here, their record company decided that it was the Lamacq programme or nothing. And it turned out to be nothing actually, because I don't think they did anything for Lammo... You get so fed up with big record company stuff like that. And we get it all the time, you know, so we just don't bother. Life is too short."
Festive Fifty Entries
Peelenium
Sessions
Three sessions. #2 (Fall covers) released as 4 Tunna Brix (EP, 1989, Goofin'). JP noted on the 02 April 2000 (BFBS) show that the band had contacted Kat's Karavan to arrange another one (after turning down other opportunities in the past), but it was obvious from his comments that he had by this time lost interest in their material, so a fourth never materialised.
1. Recorded: unknown. First broadcast: 19 May 1986. Repeated
Come And Smash Me / Expressway To Your Skull / Moonbeam Magic In A Glass Head Cage / Hallowed Be Thy Name
2. Recorded 1988-10-11. First broadcast: 19 October 1988. Repeated 05 December 1988, 25 December 1992
My New House / Rowche Rumble / Psycho Mafia / Victoria
3. Recorded: 1989-03-12. First broadcast: 20 March 1989. Repeated 03 May 1989
Corporate Ghost / Rubin's Beard / Major Label Chicken Feed / Clippers
Live
Burning Spear
I Love Her All The Time
The World Looks Red
Brother James
Kill Yr Idols
100%
Dirty Boots
Kool Thing
Swimsuit Issue
Genetic
Teresa's Soundworld
Tom Violence
Sugar Kane
Schizophrenia
Drunken Butterfly
Youth Against Fascism
01 July 1998: live at Royal Festival Hall (for Meltdown curated by Peel)
Karen Koltrane
Wildflower Soul
French Tickler
Hits of Sunshine
Sunday
Heather Angel
18 August 1998: with Spiritualized at the Royal Festival Hall for Meltdown '98. Recorded 1998-07-01.
Improvisation
Other Shows Played
The list below was compiled from the database of this site and Lorcan's Tracklistings Archive. Please add more information if known.
1983
1984
1985
1986
1987
1988
1989
1990
1991
1992
1993
1994
1995
17 March 1995: Full Chrome Logic (Soundtrack LP-Made In USA) Rhino
24 March 1995: Barchelor's In Fur! (LP-Made In USA) Rhino
09 June 1995: Eric's Trip (CD-Screaming Fields Of Sonic Love) Blast First
1996
1997
1998
2000s
Others
Thurston Moore

(The Sonic Youth guitarist was also a member of the Backbeat Band, who provided Beatles covers for the film "Backbeat". For plays by Peel, see Film Soundtracks.)
Kim Gordon
Mirror/Dash

(Kim Gordon and Thurston Moore)
Thurston, Kim & Epic

(Moore and Gordon with Epic Soundtracks (from Swell Maps).)
09 May 1992: Sitting On A Barbed Wire Fence (CD - Outlaw Blues) Imaginary
23 May 1992: Black Candy (v/a album - Fortune Cookie Prize]) Simple Machines
24 May 1992 (BFBS): Sitting On A Barbed Wire Fence (CD - Outlaw Blues) Imaginary
Lee Ranaldo
07 July 1987: The Resolution (12" - From Here To Eternity) Blast First
12 November 1994: The Bridge (CD - East Jesus [Some Recordings 1981-1991] ) Blast First
Lucky Sperms

(Kim Gordon, Lee Ranaldo, Steve Shelley, with Mike Watt (Minutemen, etc))
See Also
External Links
Community content is available under
CC-BY-SA
unless otherwise noted.