Soulbossa were a three-piece originally from Blackburn in Lancashire, but who later relocated to London where they played at Sparkle Moore's club and More Than Heaven, opening for Delilah Jacks. Members: Peter Jones (vocals/guitar), Tracy Bellaries (bass). Michael Ford (drums).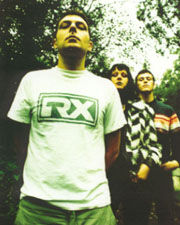 . Their name is spelt Soul Bossa in 'The Peel Sessions'.
Links To Peel
Peel played their debut single, Jinx, on Dishy Records:it impressed Peel's listeners enough to enter that year's FF chart. They also did two sessions for the show.
Festive Fifty Entries
Sessions
Two, neither commercially released.
1. Recorded: 1995-05-14. First broadcast: 03 June 1995. Not repeated.
Dirt Track / The Big Hurt / Hang Your Head / Wrong
2. Recorded: 1996-10-13. First broadcast: 03 November 1996. Repeated: 19 January 1997.
Red Rag / Nothing / Beginning Of The End / Now
Other Shows Played
1995
1996
1997
1999
2000
External Links
Extensive interview from a US source, which describes JP as "a sort of UK equivalent of Rodney Bingenheimer".