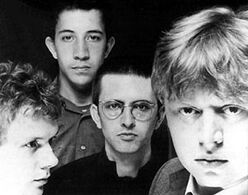 The Sound 
were a post-punk band formed in 1979 in South London. The band's founding lineup consisted of Adrian Borland (vocals, guitar), Graham Bailey (bass), Mike Dudley (drums) and Benita "Bi" Marshall (keyboards), who was replaced after the band's debut album by Colvin "Max" Mayers. 
While they were active, The Sound recorded five studio albums - Jeopardy (1980), From The Lions Mouth (1981), All Fall Down (1982), Heads and Hearts (1985), and Thunder Up (1987). A collection of early recordings, Propaganda, was released in 1999.
The Sound won acclaim with critics, especially for their first two records and the 1984 Shock of Daylight EP, and won some popularity with continental European audiences - however they were unable to become anything more than a cult act within the UK. 
During the early 1980s, Borland and Bailey also worked on the side-project Second Layer, while Borland was also a member of the shortlived The Witch Trials, which included Jello Biafra of Dead Kennedys and Morgan Fisher of Mott the Hoople. Following The Sound's breakup in 1988, Borland had a prolific and varied solo career, until he took his own life in 1999. Mayers died from an AIDS-related illness in 1993.
Links To Peel
Peel played tracks from the group in the late 1970s and early 1980s, but by the mid-1980s it seems that he lost interest in them.
Sessions
The Sound recorded one session for Peel's programme. The session was first released on CD in 2004, on the band's The BBC Recordings compiliation on Renascent.[1] It was later released on disc two of the Jeopardy • From The Lion's Mouth • All Fall Down ...Plus box-set, released in 2014 on Edsel Recordings.[2]
Recorded: 1981-11-09. Broadcast: 16 November 1981. Repeated: 09 December 1981
Fatal Flaw / Skeletons / Hothouse / New Dark Age
Other Shows Played
1979
1980
1981
1982
1983
1984
24 April 1984: Golden Soldiers (LP - Shock Of Daylight) Statik Records
External Links
References
Community content is available under
CC-BY-SA
unless otherwise noted.