Obi-Wan Finale - The Loop
Play Sound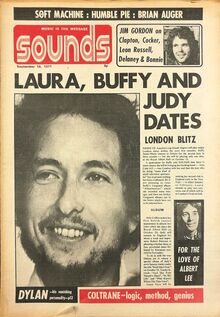 Sounds was a music paper published weekly in the UK from 1970-10-10 to 1991-04-06. It was founded to compete with Melody Maker and New Musical Express in the developing "progressive" music market. Its first editor Jack Hutton (previously editor of MM) managed to persuade a number of noted writers from other papers, such as Penny Valentine (from Disc & Music Echo), Steve Peacock and Jerry Gilbert (from MM) to join the new publication,.Sounds never attained the fashionablity of its rivals but gained a loyal readership, particularly among fans of progressive and heavy metal rock.
Following his previous stints as a columnist with International Times and Disc & Music Echo, Peel contributed a regular piece for Sounds from 14th July 1973 to sometime in 1981. The paper clearly regarded him as an asset, as during the mid-'70s he also had a regular Singles Reviews page. His columns discussed gigs or episodes in his personal life, or were written in a style parodying the boys' adventure stories he had read in his youth. Perhaps as a consequence of socialising with the likes of John Walters and the Faces, some of his mid-'70s pieces contained casually sexist comments (particularly about young women's bodies, and schoolgirls) in the "Jack the Lad" style typical of the era, although he seemed to abandon this tendency once he became a father.
In the 80's, Sounds released various compilation albums and singles, and Peel played some tracks from them on his shows.
Peel Columns
More than a few of Peel's weekly columns for Sounds were republished in The Olivetti Chronicles:
1973-12-01, Osmonds 3, pg. 204-7
1973-12-15, Osmonds 2, pg. 201-3
1974-07-20, Lena Zavaroni, pg. 350-2
1974-08-03, Robert Wyatt, pg. 347-9
1975-03-01, Roadshows 2, pg. 263-5
1975-04-05, Tommy, pg. 297-8
1975-04-19, The Mourning of the Golden Flask, pg. 166-8
1975-07-01, Knebworth, pg. 133-5
1975-11-08, Peel and the Mighty Gorgon, pg. 211-13
1976-01-10, The Party's Over, pg. 208-10
1976-02-07, Bores, pg. 27-29
1976-04-10, A Boy Named Zuma [1]
1976-04-17, Please listen to my programme, pg. 230-2
1976-04-24, Pen Pal, pg. 220-2
1976-08-14, Babies, pg. 12-14
1977-05-21, Hippies, pg. 117-18
1977-06-04, Virginity, pg. 320-3
1977-06-18, God Save The Queen, pg. 104-7
1977-09-10, Reading Festival 2, pg. 245-50
1977-10-22, Fab Pic Contest!, pg. 77-9
1977-11-05, Fab Pic Contest 2, pg. 80-3
1977-12-31, Fab Pic Contest 3, pg. 84-7
1978-05-27, Pink Pop, pg. 226-9
1978-06-24, Wine-tasting with Walters, pg. 341-4
1978-07-01, Shaving, pg. 270-2
1978-08-26, Old Bill, pg. 191-4
Please add further information on Peel's pieces for Sounds if known.
Online
1971
Oct. 16 "John Peel In The Talk-In". Peel interviewed by regular Sounds contributor Steve Peacock. "I'm a starving man - any radio I get I grab". JP talks about his radio career and the frustrations of working at the BBC. He'd recently lost his position as sole presenter of the Radio One Concert shows, says he was "hurt" by the reduction in his weekly hours of airtime and had started doing shows for Radio Luxembourg (read more)
1973
1974
1975
1976
1977
1978
1979
1980
Sounds v/a Compilations
Plays by Peel of various artist releases from Sounds. 
(v/a 7" - Sounds Showcase 1) 
(v/a 7" - Sounds Showcase 2) 
(v/a 7" - Sonic Sounds 3)
(v/a 7" - Sounds - Waves 2)
(v/a 7" - Sounds - Waves 3)
(v/a 7" - The Sounds Machine EP 3)
(v/a 7" - The Sounds Machine EP 1)
See Also
Links