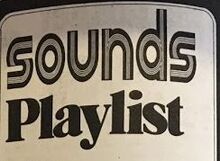 Sounds Playlist was a section in Sounds music paper where music writers for the paper would choose three albums highlighted each week, that they were listening to. It is not known when it was started, but was used frequently in the early/mid 70's and may have continued into the 80's.
Links to Peel
Peel contributed to the Sounds playlist by providing three albums highlighted that he was listening to each week. His first contribution to the playlist was published on 21st July 1973, a week after his first article in Sounds along with his Singles Reviews. Peel's playlists continued most weeks until November 1974, where it seems he stopped contributing to it.
Below is the list of Peel's contribution to the Sounds Playlist:
28th July 1973
4th August 1973
11th August 1973
18th August 1973
25th August 1973
6th October 1973
13th October 1973
27th October 1973
3rd November 1973
10th November 1973
17th November 1973
24th November 1973
8th December 1973
15th December 1973
22nd December 1973
12th January 1974
19th January 1974
26th January 1974
9th February 1974
16th February 1974
9th March 1974
16th March 1974
23rd March 1974
30th March 1974
6th April 1974
13th April 1974
20th April 1974
18th May 1974
1st June 1974
22nd June 1974
20th July 1974
27th July 1974
3rd August 1974
10th August 1974
24th August 1974
31st August 1974
7th September 1974
21st September 1974
5th October 1974
12th October 1974
19th October 1974
26th October 1974
2nd November 1974
28th June 1975 [3]
See Also
References
Community content is available under
CC-BY-SA
unless otherwise noted.