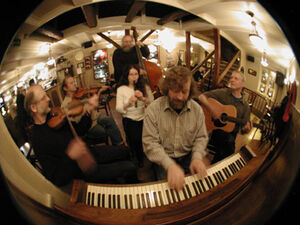 Spælimenninir í Hoydølum 
is a lively group of six musicians that play traditional and contemporary folk music from Scandinavia on fiddle, recorder, piano, guitar, mandolin and acoustic bass and vocals. The group's home base is the Faroe Islands in the far North Atlantic, a small cluster of islands located between
Iceland
,
Norway
and
Scotland
.  While they are based in the Faroes, Spælimenninir is not strictly a "Faroese" band, either in personnel or music. Playing together for over 20 years, the line-up includes one native Faroese, one Swede, two Americans and two Danes. This international collaboration has resulted in a varied repertoire which reflects each member's heritage and illustrates the links between the music traditions of the Scandinavian countries and the
United States
.
Links To Peel
Peel seemed to pick up on the band with their first album, released in 1976, particularly the track Bellman's Jig, which was played on various occasions in later years. He appeared to take special pleasure in both their unusual national background and his own efforts to pronounce their long name, which he cheerfully admitted he had no idea how to do correctly.
Festive Fifty Entries
Sessions
Shows Played
(Information on this page has been compiled only from the database of this site and Lorcan's Tracklistings Archive. Please add more information if known.)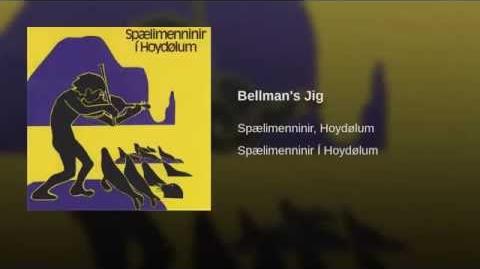 1978
1985
1986
1991
26 January 1991: Katrinevalsen (album - Spælimenninir Í Hoydølum) Spælimenninir Í Hoydølum
26 January 1991: Brøndums Hopsa (album - Spælimenninir Í Hoydølum) Spælimenninir Í Hoydølum
02 February 1991: Reinlender - Norway (album - Umaftur) Spælimenninir Í Hoydølum
1993
Other
External Links
Community content is available under
CC-BY-SA
unless otherwise noted.