Spain (Spanish: España), officially the Kingdom of Spain (Spanish: Reino de España), is a sovereign state largely located on the Iberian Peninsula in southwestern Europe, with archipelagos in the Atlantic Ocean and Mediterranean Sea, and several small territories on and near the North African coast. Its Mainland is bordered to the south and east by the Mediterranean Sea except for a small land boundary with Gibraltar; to the north and northeast by France, Andorra, and the Bay of Biscay; and to the west and northwest by Portugal and the Atlantic Ocean. Along with France and Morocco, it is one of only three countries to have both Atlantic and Mediterranean coastlines. Extending to 1,214 km (754 mi), the Portugal–Spain border is the longest uninterrupted border within the European Union.
Links To Peel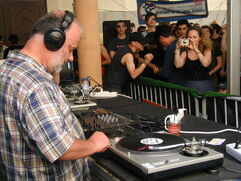 Peel first mentioned travelling to Spain on his 01 October 1983 (BFBS) show for a three days weekend music conference in Benidorm, where he mentioned he never been to Spain before and thought the place was run down and seedy, but felt perfectly at home there. He also mentioned buying Spanish records there.
In 1988 Peel drove through France by car to the Spanish city of Pamplona, which he described as 'the Manchester of Spain' on his 16th September 1988 Peel 090 (BFBS) show.
Many Spanish acts started to be played by Peel from the 90's and beyond due to the effort of the Elefant label, a Spanish-run indie record company who would send many records to Peel including Spanish artists such as Nosotrash. The first Spanish band to record a session for the programme was Unfinished Sympathy in 2001.
Peel travelled regularly to Barcelona by car between 2001 and 2004 for the Sonar festival and would broadcast from there for his BBC Radio One shows.
Festive Fifty
Sessions
The following artists from Spain recorded sessions for the John Peel Show:
See Also
External Links
Community content is available under
CC-BY-SA
unless otherwise noted.