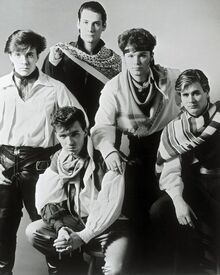 Spandau Ballet are a British new wave pop group established in the London area in 1979. Starting out as a punk band under the name of The Makers in late 1976, the group of friends involved in the band moved into creating a more power-pop sound under the name of Gentry before finally becoming Spandau Ballet and adopting more electronic elements into their music. They soon become a regular live feature on the London club circuit, establishing a cult following as gigs were often secret or previously unannounced. Their breakthrough came with their debut single 'To Cut a Long Story Short', a top 5 hit in late 1980, swiftly followed by two more top twenty hits and successful debut album 'Journeys to Glory'. The group became firmly associated with the New Romantic movement, thanks also to an original choice of clothing and image. Spandau Ballet adopted a funkier sound in the summer of 1981 before becoming international pop stars from 1983 onwards with hits like 'True', 'Gold' and 'Through the Barricades'. At the height of their career they were often depicted as a 'rival' group to contemporaries Duran Duran.
Links to Peel
Peel played Spandau Ballet's debut single when it first came out in November 1980, commenting, "To be disarmingly frank with you, and I always am, I was almost eager to dislike that record because of the amount of pre-publicity which the band had had, most of which had seemed rather silly I must confess, but there you are, it's a good record." Interest does not seem to go beyond that point however, their sound and style considered perhaps too vogueish and more suited to other Radio One shows. They recorded a non-Peel BBC session in March 1981. Peel introduced the group several times on Top of the Pops as they reached their commercial peak around 1983/84 when Peel was most frequently a presenter.
Sessions
A 'BBC session' is available on the special re-issue of Journeys to Glory, 2xCD, 2010. [1]
Shows played
1980s
Top Of The Pops
External links
Community content is available under
CC-BY-SA
unless otherwise noted.