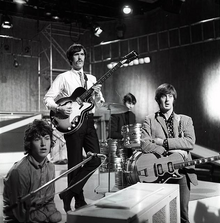 The Spencer Davis Group are a British band formed in Birmingham in 1963, by Spencer Davis (guitar) with Steve Winwood (keyboards, guitar) and his brother, Muff Winwood (bass guitar) and Pete York (drums). Their best known songs include the UK number ones "Somebody Help Me" and "Keep on Running" (both written by reggae musician Jackie Edwards), "I'm a Man" and "Gimme Some Lovin'", which reached #2 in the UK and #7 in the US.
Steve Winwood left in 1967 to form Traffic before joining Blind Faith, then forging a career as a solo artist. After releasing a few more singles, the band ceased to be active in 1968. Davis refounded the group on two more occasions, without the involvement of the Winwood brothers, first in 1973–1974 for two more albums, and again from 2006, since when they have primarily been a touring act.
In October 2020, Davis died from pneumonia at the age of 81.
Links to Peel
John Peel was aware of the Spencer Davis Group during his time in the USA, where their singles "Gimme Some Lovin'" and "I'm A Man" made the Top Ten charts. They were one of the most successful groups of the mid-1960s and were heavily featured in the British pop press. Some of their hits were also featured in Peel's KMEN British Pop Top Ten on KMEN radio in San Bernardino; ."Keep On Running" in January 1966, "Somebody Help Me" topping the chart for two weeks in April, "When I Come Home" spending seven weeks in the lisitngs in September and October, and "Gimme Some Lovin'" ten weeks, from November 1966 until January 1967. 
Peel also saw the Spencer Davis Group at Liverpool's Cavern Club during a holiday in the UK in 1965, according to the book The Cavern Club: The Rise Of The Beatles And Merseyside. [1]  This may explain why he seemed keen on their work during his final year in the US, but the band lost much of their popularity after Steve Winwood left to form Traffic in early 1967. They had no more major hits after that, but did a session for Top Gear at the end of that year.
Steve Winwood remained the most famous ex-member of the Spencer Davis Group and his work with Traffic was reguarly featured on Peel's shows until the mid-1970s. Spencer Davis himself pursued a more low-key career as an acoustic artist, while Eddie Hardin and Pete York formed the band Hardin-York, which attracted some attention, but not from Peel. However, Muff Winwood, Steve's brother, became a record producer and A&R man with Island Records and later CBS. He was involved with many artists Peel featured, including Mott The Hoople, Sparks, the Sutherland Brothers, and Kevin Ayers
Sessions
1. Recorded: 1967-12-30. Broadcast: 07 January 1968
Taking Out Time / Mr Second Class / Time Sailor / Don't Want You No More / With His New Face On
Other Shows Played
1968
21 January 1968: Taking Out Time (shared LP with Traffic - Here We Go 'Round The Mulberry Bush (Original Motion Picture Soundtrack)) United Artists
External Links
Community content is available under
CC-BY-SA
unless otherwise noted.