(This page is about the US rock band led by Randy California. For the two Drum And Bass acts of the same name, see Spirit(2) and Spirit(3).)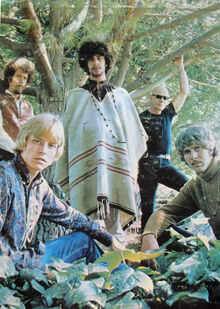 Spirit was an American rock band founded in 1967 and based in Los Angeles, California. Their most commercially successful single in the United States was "I Got a Line on You", but they were also known for their albums including their self-titled debut album, The Family That Plays Together, Clear, and Twelve Dreams of Dr. Sardonicus.
The original lineup of the group evolved from an earlier Los Angeles band the Red Roosters, which included Randy California (guitars, vocals), Mark Andes (bass), and Jay Ferguson (vocals, percussion). With the addition of California's stepfather Ed Cassidy (drums) and keyboard player John Locke, the new band was originally named the Spirits Rebellious (after a book by Kahlil Gibran) but was soon shortened simply to Spirit (Read more at Wikipedia)
Links to Peel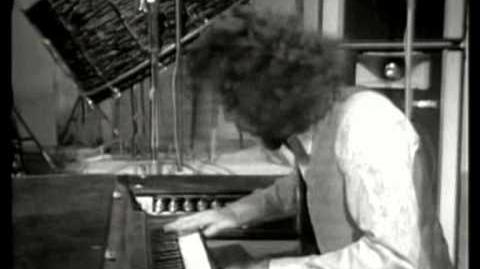 Peel heard Spirit's first LP in early 1968 and mentioned it in his column in issue 27 of International Times: "On the Ode label there is an LP by Spirit who have a bald drummer (I read like Penny Valentine [1] this week, I'm afraid) and are rather good...." . In issue 32 of IT the album was reviewed at greater length by Miles (Barry Miles) who took over record reviewing duties for the paper when Peel was unable to provide a column. Miles described it as "far in advance of anything else on the current scene...a complete synthesis of present (and future?) trends..."[1].
On the Top Gear of 07 February 1970 Peel mentions that he had seen them live in the previous week and was highly impressed, calling them "an amazing band" and saying that they were "perhaps the most impressive band I've ever seen play live in my life"". But Spirit went through a series of personnel changes and the post-1970 band never matched the critical acclaim the first four albums had received. They.never had big commercial success in the UK, although a couple of their LPs made the lower reaches of the charts, but became a cult band among musicians (Soft Machine's Mike Ratledge and Led Zeppelin admired them) and fans. They were written about in UK publications such as Zigzag and the West Coast music fanzine Dark Star, and visited Britain several times, first with the original line-up, and then as a trio led by guitarist Randy California.
Peel played their records as they appeared, but later recounted that his liking for them was challenged after an incident when they played at the Reading Festival (he didn't mention the year, but Spirit appeared at the festival in 1978). On the show of 29 November 2001, he described them as an "aggressive and pretentious bunch" who took one of the records he was playing off and started their set. After this he stopped playing their records and this show was was the first time he had played any of their music since that occurrence - apparently not an isolated one in Spirit's later years, as the Wikipedia article on them includes an account of a similar incident involving Neil Young, another admirer of the band.
Spirit's best-known track in the UK was "Fresh Garbage", from their first LP. It was also included on CBS's popular budget-priced sampler LP of 1968, The Rock Machine Turns You On. The track also gave its name to a Peel-influenced underground rock music show on BBC Radio London in the early 1970s, Fresh Garbage, introduced by Andy Finney.
After Peel's death, a copy of Randy California's Kapt.Kopter & The (Fabulous) Twirly Birds LP (made in 1972 after Spirit had effectively split in half, with Jay Ferguson and Mark Andes leaving to form Jo Jo Gunne) was found among the first 100 albums by artists beginning with C in the DJ's Record Collection.[2] In 2014, Brian Eno chose the Spirit LP The Twelve Dreams Of Dr Sardonicus from the Peel record collection, for his own Record Box.[2]
Festive Fifty Entries
Sessions
Other Shows Played
See Also
See Also
References
↑ Penny Valentine (1943 - 2003), pioneering female pop journalist and colleague of Peel on Disc & Music Echo and, later, Sounds.
↑ See Record Boxes: Brian Eno .
External Links
Community content is available under
CC-BY-SA
unless otherwise noted.