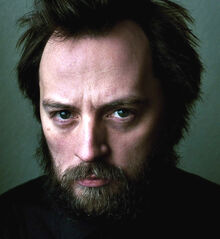 Tom Jenkinson (born 17 January 1975), known professionally as Squarepusher, is an English electronic musician. His music spans several genres, including drum and bass, IDM, jazz, and electroacoustic music. His recordings are typified by a combination of electronic sound sources, live instrumental playing, and digital signal processing. He is the brother of Ceephax Acid Crew (Andrew Jenkinson).
Links to Peel
Peel played tracks from the artist between 1995 and 2001, including when he used the alias Chaos A.D. Listeners also voted his track My Red Hot Car in the 2001 Festive Fifty. After 2001, it seems Peel largely lost interest in Squarepusher's music until 2004 when he played his Venus No. 17 track.
Festive Fifty Entries
Other Shows Played
Squarepusher
External Links
Community content is available under
CC-BY-SA
unless otherwise noted.