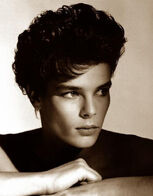 Princess Stéphanie Of Monaco, Countess of Polignac (Stéphanie Marie Elisabeth Grimaldi; born 1 February 1965) is the youngest child of Rainier III, Prince of Monaco and actress Grace Kelly, and the sister of Albert II, Prince of Monaco, and Caroline, Princess of Hanover. Currently the tenth in the line of succession to the Monegasque throne, she has been a singer, swimwear designer and fashion model.
Links To Peel
Peel played Princess Stephanie's single "Ouragan" in 1986, which became a big hit in mainland Europe and one of the best-selling singles of all time in France. In the UK, the English version, "Irresistible", did not do as well. In its French version, the song's lyrics and sentiments recall Neil Young's "Like A Hurricane", one of the singer's best-known tracks and a life-long Peel favourite. One listener wasn't impressed with Peel playing the record, so on his 02 October 1986 (BFBS) show, he responded to listener Andy's request in stop playing it:
"From Andy, in which he says, "Please stop playing awful records by Princess Stephanie of Monaco." I'm a great fan: if she made an LP, you'd hear every track from it on these programmes. Excellent stuff. What an artiste: I keep hoping that she'll come to Britain and record a session for the programmes that I do for the BBC, one of my boyhood ambitions."
In fact, Stéphanie did record an album, named Besoin in France where it was a best-seller. In other European countries it was called Stephanie or Live Your Life, depending on territory. Peel said that the album was called Live Your Life on his 03 March 1987 show and played the track "Besoin". He mentioned that he had been in contact with her record company to ask whether she might do a session for his programme, but had been turned down by them. Later, Stéphanie went to the USA to pursue her musical career. She made a second album there and recorded with Michael Jackson before quitting the music scene, but Peel is not known to have played anything by her from this period.
Shows Played
1986
1987
External Links
Community content is available under
CC-BY-SA
unless otherwise noted.