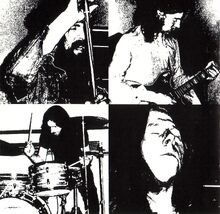 Stack Waddy were a British blues rock band from Timperley, Manchester, who were active in the late 1960s and early 1970s and again in 2007. Signed to John Peel's Dandelion label, the original line up of John Knail, Mick Stott, Stuart Banham and Steve Revel (replaced by John Groom on second album) released two albums and singles before breaking up for a while in 1973. They have reconvened several times with their second line up of Knail, Stott, Banham and Groom; with the last get together for the Dandelion Records biographical DVD film shoot in July 2007.
Links To Peel
Peel became interested in in Stack Waddy (sometimes spelt Stackwaddy) after seeing the entire audience walk out during one of their early live gigs, as he recalled on 13 April 2004:
"When I had a record label years ago, I signed a band called Stackwaddy, who I saw playing in Manchester, and they genuinely did empty the building. People hated them so much and the sound was so terrible, 'cos they turned everything up very very trebly so the sound was almost unbearable. As I say, they emptied quite a big hall, and I thought, "That's my kind of a band"."
A picture of the band appeared in an article on the Manchester scene in a December 1969 issue of International Times, which described them as "an earthy rock & roll blues group" but with equipment problems ("they go through through gear like nothing on earth") and mentioned that they had "made a demo for John Peel's Dandelion"[1]. At Dandelion the DJ produced both of the band's albums, under the pseudonym Eddie Lee Beppeaux (the label of the first LP reads "produced by Eddie Lee Beppeaux and Miss Pig"[2]). On his 03 March 1989 (BFBS) show, Peel remembered the experience of making of the band's second album, Bugger Off:
"The reason it had its title was that every time I played something through for level (we used to record things virtually live in those days, there was none of this month in a studio in Nassau)...I would say to them, "That's fine, can we do that one?," they'd say "Bugger off! We've played that one once," and refused to do it again, so they were not easy people to work with....They were a repellent bunch. I used to really like 'em a lot, I must say, but tried to keep 'em at arms' length. They came to stay with me once when I was still living in London, and I've never fully recovered from the experience. The idea was that I should play them through some new material that they could perhaps record when they next went into the studio. All they did was just got immensely drunk and passed out on the floor....They were a brutal bunch and what's become of them now I simply don't know. Folklore has it that one of them was a deserter from the British Army and had to retreat quickly to Ireland, but whether this is true or not....I know that another one of them spent some time in a mental institution but may now be, as it were, liberated again. But as for the other two....serving terms of imprisonment, I'm willing to have a small bet with you, but I don't know this for sure. But they were a great band."
Few people shared Peel's enthusiasm for Stackwaddy, although their first album got a positive review from Hugh Nolan (a former colleague of Peel at Disc and DJ at Radio Geronimo) in International Times; "Totally unsubtle, but with this much energy subtlety is the last thing you need. DO IT, Mr. Peel. Stackwaddy get it on and no mistake."[3]. However, Peel's producer John Walters wasn't impressed, as he told John Tobler:
There may be bands who are not popular; they may not even be good, but they may still be right for Top Gear. You might, perhaps, mention Stackwaddy, and in a sense that's right; I have yet to hear anything by them that has sufficiently impressed me; I'm not necessarily going to book them because they're good, or because they're bad. Admittedly, the tapes I heard of that last album did seem more like a band, and it could be one of those cases where they turn out to be something special - in fact, if you listen to the early Stones stuff, it's incredibly badly strung together, and it may be that Stackwaddy's obvious energy and don't-give-a-bugger kind of philosophy and earthiness may gradually pull the music together. I don't automatically assume that it will never appear, but on the other hand, I'm not just going to use them because John's keen on them, and is involved in their recording. We can't do that, and he knows we can't. (Zigzag 24, 1972, unnumbered page)
Nevertheless, despite these comments, Walters did book them for one session in 1972.
In Margrave Of The Marshes (hardback, pg 196), Sheila Ravenscroft related the story of an infamous performance by the "gang of Mancunians whom John described as 'punks before punk was invented'":
"Jack Holzmann, president of Dandelion's US sponsors Elektra ... was over in London for a showcase gig at which John and Clive planned to impress him ... and witnessed Stackwaddy's singer urinating on the crowd during the band's opening number. Perhaps it was his idea of giving the audience that little bit extra."
Sessions
1. Recorded: 1972-01-24. Broadcast: 18 February 1972. Repeated: 07 April 1972.
Hoochie Coochie Man / Rock Me Baby / You Really Got Me / Willie The Pimp
Live
12 September 1971, concert show, recorded 1971-07-22, Paris Theatre. Available on Bugger Off!, expanded CD re-release, 2007 (Cherry Red CDM RED 331), although credited by the label as Peel session of 1972-01-24.
Mama Keep Your Big Mouth Shut
Repossession Boogie
Lawdy Miss Clawdy...Meets Sooty 'N Sweep
Jack & Jill Meet Blind Pugh On The Spot
Other Shows Played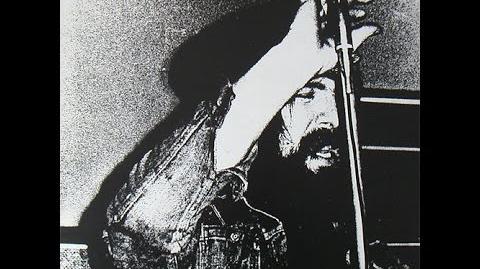 (The following list was compiled from the database of this site and Lorcan's Tracklistings Archive. Please add more information if known.)
1970
1972
1973
28 June 1973: I'm A Lover Not A Figher (LP - Bugger Off!) Dandelion
1980
1986
1988
1989
1999
16 November 1999: (John is enthusiastic about the fact that Quasi are planning to form a Stackwaddy tribute band.)
2000
See Also
External Links
Community content is available under
CC-BY-SA
unless otherwise noted.