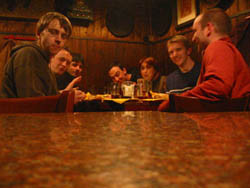 Stanton were a British indie band formed in the late 90's featuring Simon Hughes, Bob Davies, Joe Thompson and Chris Thompson, plus various other members along the way. Having formed while at college in Watford, after a few cassette only demos, they formed their own label Jonson Family Records and self released a number of 7" singles and an LP called Walking Songs (also available on CD on Tritone (UK)). They also appear on various compilations and a Victory Garden 7". An demos/outtakes cassette only compilation called Walkman Songs is also still available through the Victory Garden label. Simon now records as Fupper and Chris and Bob play in the band Hey Colossus.
Links To Peel
Stanton's only Peel session was broadcast live on 11 December 2002, alongside other 10-minute sets by fellow Jonson Family bands that had previously appeared on The Twominutemen 2x7" compilation. A similar event took place on 23 July 2003 with other artists from the series.
Peel nominated the Stanton album 'Walking Songs' as his album of the month for March 2003 (Peel's Record Box).
Sessions
1. Recorded: 2002-12-11. Broadcast: 11 December 2002
Paw / Dead Mans Hammock / Reader Who Fights Joe / A Free T-Shirt) / Electric
Other Shows Played
1998
2000
2002
2003
2004
External Links
Community content is available under
CC-BY-SA
unless otherwise noted.