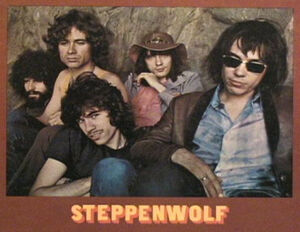 Steppenwolf
is an American rock group that was prominent from 1968 till 1972. The group was formed in late 1967 in Los Angeles by vocalist John Kay, keyboardist Goldy McJohn and drummer Jerry Edmonton. Guitarist Michael Monarch and bassist Rushton Moreve were recruited by notices placed in LA area record stores and musical instrument stores. The essential core of Steppenwolf was John Kay, Jerry Edmonton, his brother Dennis Edmonton and Goldy McJohn from The Sparrows (originally Jack London & the Sparrows from Oshawa, Ontario, Canada). Steppenwolf sold over estimated 25 million record worldwide, releasing eight gold albums and twelve Billboard Hot 100 singles of which six were Top 40 hits, including three Top 10 successes: "Born to Be Wild", written by Dennis Edmonton, "Magic Carpet Ride", and "Rock Me". Steppenwolf enjoyed worldwide success from 1968 to 1972, but clashing personalities led to the end of the core lineup. Today, frontman John Kay is the only original member, having served as lead singer since the band was formed.
Links To Peel
Peel first heard of the band when he stole Steppenwolf's LP from Jonathan King claiming on his 04 February 1968 show that he liked the sleeve and would play some tracks on his show if he liked it:
"And I'd like to say thank you to Jonathan King, famed TV personality, from whom I've just nicked an LP from Steppenwolf, who are a Los Angeles group we may hear on the programme perhaps next week if the LP is as nice as the sleeve." 
Peel continued playing tracks from the group until 1972, when he last saw them play at the Buxton Pop Festival during their RIP tour before the group split initially for good. When the band reformed in the late 70's, Peel rarely played any tracks from their subsequent materials. In 1993, he played Broom's cover of Steppenwolf's Born To Be Wild with their own interpretation and the original sample of the song under the track title of Pumpkin Eater.
Shows Played
1968
1972
1980
1998
See Also
External Links
Community content is available under
CC-BY-SA
unless otherwise noted.