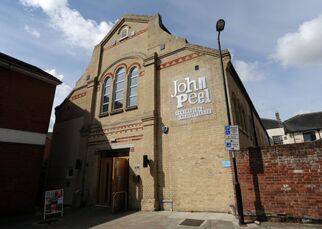 Stowmarket is a small market town in Suffolk. In the UK census of 2011, the town had a population of 19,280 [1].
Links With Peel
Stowmarket is the nearest town to Peel Acres, the Ravenscroft family home in Great Finborough. Stowmarket itself is situated about 3 miles to the east of the village.
In April 1989 Peel attended his first football match since witnessing the Heysel stadium tragedy in 1985. The game was a 1-1 draw between Stowmarket and Histon (10 April 1989).
In March 1997 Peel was invited to unveil a plaque at the ceremonial opening of a resource centre in the town for people with mental and physical disabilities. During the ceremony, the local dignitary compering the event forgot his name (17 March 1997 (BFBS)).
John Peel Centre for Creative Arts
The John Peel Centre for Creative Arts opened in 2010 in the former Corn Exchange building in Stowmarket. Refurbishment continued over the next few years, with funding sources that included a £50,000 National Lottery grant [2]. This work was completed in 2013.
The Undertones held a special concert at the Centre on 30 August 2019, to mark what would have been Peel's 80th birthday.[1]
Featured Bands
Peel was a keen supporter of local talent and often expressed something akin to paternalistic pride in their achievements. Having featured several bands from neighbouring Bury St Edmunds in his programme, he often expressed a desire to showcase talent closer to home: "I yearn for the day when I can introduce you to the Stowmarket sound" he had said on 18 July 2001. Electronic artiste Cowcube was perhaps the first from the town to feature on the Peel show. Although three Cowcube sessions were aired, these were recorded privately in the artiste's own studio. The first Stowmarket band to record a session in the traditional manner were the Vaults in 2002 [2]. They appeared to be particular favourites of the DJ, with Peel claiming on 16 January 2003:
"I couldn't be more proud of them if they were my own children, which blood tests have shown they are not."
(Please add to this list if known)
(Related page: Bury St Edmunds)
Mentioned On Shows
Links
References
Community content is available under
CC-BY-SA
unless otherwise noted.