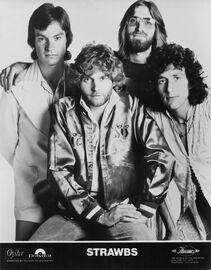 Strawbs (or The Strawbs) are an English rock band founded in 1964 as the Strawberry Hill Boys. Although the band started out as a bluegrass group, they eventually moved on to other styles such as folk rock, progressive rock, and (briefly) glam rock. They are best known for their hit, "Part of the Union", which reached number two in the UK Singles Chart in February 1973, as well as for "Lay Down" a popular progressive rock hit from the same LP. The Strawbs also toured with Supertramp in theiCrime of the Century" tour, doing their own "Hero and Heroine" tour, which drew musical similarities and themes.
Links to Peel
A favourite of Peel in the late '60's (he listed them in his ABC Of Beauty article) and popular with Sounds Of The Seventies listeners in the early/mid 70's, the band did three sessions for JP's programmes, with their session track "The Battle" creating a strong listener response; Besides featuring ti on the original session broadcast and the repeat a few weeks later, Peel played it on 16 March 1969, when it was still unavailable on record. The band were also interviewed by him on Rock Week in 1975, when they released their Ghosts album. A live concert by them was broadcast on his Sunday Show in 1971, but was compered by either Alan Black or Bob Harris, as Peel was away on holiday.
However, he didn't seem to show much interest in the Strawbs' recorded work, perhaps because in the 1970s they moved away from their folk and folk-rock origins towards a more progressive rock-infuenced style. The band had moved rapidly through different musical styles and lineups in the early years, creating personnel links with other Peel session bands, including Fairport Convention (via singer Sandy Denny, who had sung with them in their early days and in 1967 recorded an LP with them, which wasn't released until the mid-1970s). Keyboard player Rick Wakeman made a big impression on audiences during his short time with the band and went on to play with David Bowie and Yes before launching a successful career as a solo artist. Singer Dave Cousins later pursued a career in radio.
Sessions
1. Recorded: 1968-12-10. Broadcast: 12 January 1969. Repeated: 16 February 1969
I'll Show You Where To Sleep / Poor Jimmy Wilson / The Battle / That Which Once Was Mine
2. Recorded: 1969-08-25. Broadcast: 07 September 1969. Repeated: 24 January 1970
We'll Meet Again Sometime / Another Day / Till The Sun Comes Shining Through
3. Recorded: 1970-10-05. Broadcast: 31 October 1970
Canon Dale / The Reaper / We Must Cross The River / Antiques And Curios / Hey It's Been A Long Time / Song Of A Sad Little Girl
Live
Recorded live on 1971-08-05 at BBC Paris Theatre. Broadcast: 15 August 1971
Hangman And The Papist
Martin Luther King's Dream
A Glimpse Of Heaven
Witchwood
In Amongst The Roses
R.M.W.
Flower And The Young Man
Fingertips
The Shepherd's Song
When You Wore A Tulip
Sheep
Other Shows Played
1970
Mainly Spring 1970 Mix Reel: Temperament Of Mind (album - Just A Collection Of Antiques And Curios (Live At The Queen Elizabeth Hall)) A&M
1972
1975
January 1975 (Rock Week): Lemon Pie / You And I (When We Were Young) / The Life Auction / Where Do You Go (When You Need A Hole To Crawl In)
See Also
External Links
Community content is available under
CC-BY-SA
unless otherwise noted.