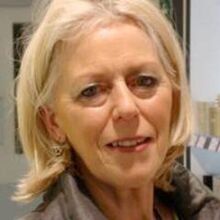 Sue Steward (19 September 1946 – 23 August 2017) was a writer, broadcaster, author, magazine founder, exhibition curator, DJ and picture editor. Her endless curiosity and eclectic range of enthusiasms led to her writing knowledgeably across the whole spectrum of the arts, from photography to "outsider art", but it was for her particular passion for music from Africa and Latin America that she would become best known. Work as a journalist and broadcaster made her an influential figure in elevating "world music" to wider attention at a time when the term was hardly known. Steward's book, Salsa: Musical Heartbeat of Latin America (1999), is widely regarded as the definitive history of the form, earning her the nickname La Stewarda.
Links To Peel
Peel mentioned on several occasions his appreciation of Sue Steward loaning him African and Latin records to play on his shows and he invited her in some of his programmes in early 1983 to discuss her Collusion magazine and records she selected to be played on his shows.
Shows Mentioned
1983
08 February 1983: Peel invites Sue Steward to talk about her Collusion magazine and records.
22 August 1983: Peel mentions Sue Steward showing him a record from Guinea featuring the artist Les Amazones De Guinée, who are African police women and he then says that she took it away after saying that it was a good record.
1986
External Links
Community content is available under
CC-BY-SA
unless otherwise noted.