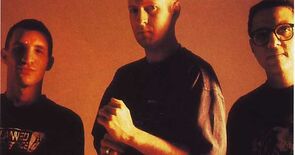 Sugar was an American alternative rock band of the early 1990s. Formed in 1992, they were led by the singer and guitarist Bob Mould (ex-Hüsker Dü), alongside bassist David Barbe (ex-Mercyland) and drummer Malcolm Travis (ex-Human Sexual Response). The band was named in an Athens, GA Waffle House Restaurant when Mould spotted a sugar packet on the table he and the other two band members were sitting at. Their first concert was on February 20, 1992, at the 40 Watt Club in Athens, Georgia. Later in 1992, the band released the album Copper Blue, which was named Album Of The Year 1992 by the NME. The following year they released Beaster, an EP of material recorded during the Copper Blue sessions. After an abortive attempt to record a second album, the band regrouped and released File Under: Easy Listening in September 1994. It reached No. 7 in the UK Albums Chart. A b-side compilation album, Besides, followed in July 1995. Mould broke the band up in spring 1996 with himself and Barbe pursing a solo career.
Links To Peel
Peel was a fan of Bob Mould's previous band, Husker Du, but did not appear impressed by the material Mould released after forming Sugar. None of their records were played on his show, except when listeners voted three tracks from the Copper Blue album into the 1992 Festive Fifty.
Festive Fifty Entries
Shows Played
1992
18 December 1992: 'Helpless (LP-Copper Blue)' (Creation) FF #48
25 December 1992: 'A Good Idea (LP-Copper Blue)' (Creation) FF #21 (JP: 'Listened to this LP a lot, but never was entirely convinced. Obviously, you were.')
25 December 1992: 'Changes (LP-Copper Blue)' (Creation) FF #16
External Links
Community content is available under
CC-BY-SA
unless otherwise noted.