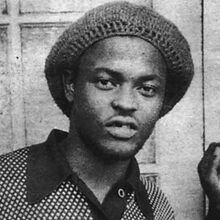 Lincoln Barrington "Sugar" Minott (25 May 1956 – 10 July 2010) was a Jamaican reggae singer, producer and sound-system operator. First began his singing career as part of The African Brothers in 1969, along with Tony Tuff and Derrick Howard. The group released several singles in the first half of the 1970s on labels such as Micron and their own Ital label, and were an early example of the Rastafari movement's influence on the Jamaican music scene, taking a clear lead from The Abyssinians. After the group broke up in the mid 70's, he went solo and achieved some success in the UK in the early 80's when Good Thing Going" (a cover of a song originally recorded by Michael Jackson in 1971) reached Number 4 in the UK Singles Chart in March 1981.
Links To Peel
Peel was a fan of Minott's music and was pleased that he had some success in the UK with Good Thing Going. He also tried to book him for three sessions for his show, where Minott failed to turn up for no apparent reasons in one of the Sessions That Never Happened. Despite this, Peel continued playing his music, even when his hits dried up in the UK after the success of Good Thing Going.
Sessions
Peel noted on 11 December 2001, in response to a listener query as to why so few Jamaican acts were booked, that reggae acts were notoriously bad at actually fulfilling the bookings that had been made, citing the case of Sugar Minott who missed three bookings for no apparent reason.
Shows Played
1979
1980
1981
1982
1983
1984
1985
1986
1987
1988
1989
1990
1991
1993
1997
2000
2002
2003
External Links
Community content is available under
CC-BY-SA
unless otherwise noted.