how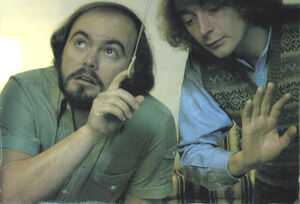 The Sutherland Brothers (Gavin and Iain Sutherland) were a Scottish folk and soft rock duo, originally known as The New Generation. From 1973 to 1978, they performed with rock band Quiver, and recorded and toured as Sutherland Brothers & Quiver. Under this combined moniker, the group recorded several albums and had a significant international hit single with the song "Arms of Mary" in 1976. In North America, they are primarily known for their 1973 single "(I Don't Want to Love You But) You Got Me Anyway". Iain died of an illness on 25 November 2019, aged 71.
Links to Peel
The Sutherland Brothers did a single Top Gear session when they were known as The (or "A") New Gerreration in early 1968, and in November of that year, in his ABC Of Beauty article in Disc, Peel included them among a number of artists he liked but had overlooked when writing the main part of his "opinionated list".[1]
According to Gavin Sutherland's website, he first met Peel whilst hitch-hiking:
"There was a sense of freedom around back then, but not a lot of money, so hitch-hiking was the standard mode of transport for young people. I remember standing at the bottom of the M1, thumb in the air, when a Land Rover pulled over. Opened the door, and it was the inimitable John Peel. Nice one! We'd recorded stuff for his shows at BBC's Maida Vale studios quite a few times but had never met the guy. For the next few hours we talked rock n' roll and football, my two favourite subjects, as we headed north to see the folks. Nice bloke." [2]
They did a session for Peel in 1972 before combining with Quiver for six more between 1973 and 1975, which indicated that Peel liked their work. The DJ had previously played a session from them when they were originally called The New Generation, in 1968. Rod Stewart covered the Brothers' track "Sailing", which became one of Peel's top 15 favourite songs of 1975, as broadcast on 19 December 1975 - and was a big chart hit. It remained the Sutherland Brothers' best-known song.
Sessions
New Generation
1. Recorded: 1968-02-28. Broadcast: 10 March 1968. Repeated: 28 April 1968
She's A Soldier Boy / Sadie And Her Magic Mr Galahad / I Saw You (At Skippy Fair) / A Brush With Sister Jo / Eleanor Rigby / Smokey Blues Away (broadcast on 28th April 1968)
Sutherland Brothers Band
1. Recorded: 1972-08-07. Broadcast: 05 September 1972
Sailing / Space Hymn / Sleeping Dog / Who's Crying Now / Change The Wind (not broadcast)
Sutherland Brothers And Quiver
1. Recorded: 1973-02-19. Broadcast: 06 March 1973. Repeated: 08 May 1973
Real Love / You Get Me Anyway / Rock And Roll Show / Love Is My Religion
2. Recorded: 1974-01-08. Broadcast: 22 January 1974. Repeated: 12 March 1974
Real Love / Dream Kid / Bluesy World / I Hear Thunder
3. Recorded: 1974-07-30. Broadcast: 13 August 1974.
World In Action / Beat Of The Street / Saviour In The Rain / Annie
4. Recorded: 1975-01-16. Broadcast: 23 January 1975. Repeated: 20 March 1975
Devil Are You Satisfied / Silver Sister / Something Special / Last Boy Over The Moon
5. Recorded: 1975-06-17. Broadcast: 30 June 1975. Repeated: 18 August 1975
Dirty City / Little Bit Something Else / Somebody Buy The Band A Drink / Laid Back In Anger /
6. Recorded: 1975-11-18. Broadcast: 04 December 1975. Repeated: 25 February 1976
Mad Trail / When The Train Comes / Love On The Moon / Ain't Too Proud
Other Shows Played
New Generation
External Links
Community content is available under
CC-BY-SA
unless otherwise noted.