Obi-Wan Finale - The Loop
Play Sound
(This page is about the American Seattle band. For the American Boston band of the same name, see Swallow(2)).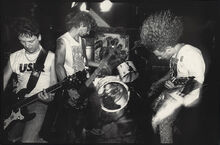 Swallow was an American band from Seattle who came together in 1987. The group consisted of Rod Moody (aka Rod Ho) on guitar and vocals, Andy Scheen (aka Andy Springsheen) on bass, Chris Pugh on guitar, and Scott Schickler (aka Guitar) on drums. From the beginning, they experienced a variety of problems, including breaking down three times on their first tour in 1989, causing them to miss shows in New Mexico, Texas, and California. Then there were other moments of misadventure, such as the time Moody drank a large quantity of tequila in the middle of a hot summer's day in Dallas while on tour. He wound up unplugging his guitar in the middle of a song, unable to plug it back into his amplifier. The majority of their trouble was with their label, Sub Pop, which released one single and two full-length albums by the band between 1988 and 1990.
Links to Peel
Peel played the band's debut single in 1988 via the Sub Pop label on his programme and would play further material from the group in 1989. It seems he did not play any of their songs after 1989, especially their 1990 album, 'Sourpuss', which was their last release on the Sub Pop label.
Shows Played
1989
External Links