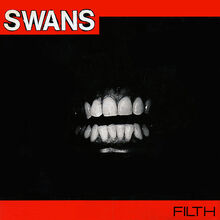 Swans are an American experimental rock band formed in 1982 by singer, songwriter and multi-instrumentalist Michael Gira. One of few acts to emerge from the New York City-based no wave scene and stay intact into the next decade, Swans have become recognized for an ever-changing sound, exploring genres such as noise rock, post-punk, industrial and post-rock. Initially, their music was known for its sonic brutality and misanthropic lyrics. Following the addition of singer, songwriter and keyboardist Jarboe in 1986, Swans began to incorporate melody and intricacy into their music. Jarboe remained the band's only constant member except Gira and semi-constant guitarist Norman Westberg until their dissolution in 1997.
Swans have been cited as an influence by a variety of extreme metal and rock musicians, including members of Napalm Death, Godflesh, Melvins, Neurosis, Nirvana ...
(Read more at Wikipedia.)
Links to Peel
"The Swans are best known for the disconcertingly slow tempo of all their numbers, which they prefer to play at extreme volume. … Swans' music is mad music, disintegration filmed and shown in ultra slow motion. … Bright their work certainly is not, yet its grinding relentlessness, the stubborn adherence to this most restricted of forms, begins to make some kind sense as the set rages on. … Swans' music is too shocking, too thought provoking, too much of today to be merely enjoyed."
(John Peel reviews Swans, live at The Garage, Nottingham, for the Observer, 1986-02-16)[1]
Although Peel had given airtime to early Swans releases, his enthusiastic reaction to seeing the band live in Nottingham in February 1986 led to them featuring more regularly on his shows for the rest of the year and beyond, until they shifted to a more melodic, less brutal sound. A possibly ill-judged cover of Joy Division's 'Love Will Tear Us Apart' in 1988 proved the final straw for the DJ and he didn't play them again, although their influence continued to be felt in the extreme music that he supported, including grindcore.
Long after Peel's death, Shane Embury of Napalm Death selected the Swans LP 'Cop' for a record box drawn from the DJ's Record Collection for an online series.[2] In an accompanying video, he paid tribute to the US band as a formative influence:
"They became very important in Napalm's evolution. ... As much as we were into fast, hard-grinding music, Swans was just as grinding to us, but at the other end of the spectrum. To us, it could be extremely fast or extremely slow, as long as the sound was really powerful and really abrasive."
Festive Fifty Entries
Sessions
Other Shows Played
1982
1983
1984
1985
1986
1987
1988
See Also
External Links
Community content is available under
CC-BY-SA
unless otherwise noted.