Switzerland (officially the Swiss Confederation) is a federal republic in Europe. While still named the "Swiss Confederation" for historical reasons, modern Switzerland is a federal directorial republic consisting of 26 cantons, with Bern as the seat of the federal authorities, called '"federal city" (German: Bundesstadt, French: Ville féderale, Italian: Capitale federale). The country is situated in Western and Central Europe, and is bordered by Italy to the south, France to the west, Germany to the north, and Austria and Liechtenstein to the east.
Switzerland is a landlocked country geographically divided between the Alps, the Swiss Plateau and the Jura, spanning an area of 41,285 km2 (15,940 sq mi). While the Alps occupy the greater part of the territory, the Swiss population of approximately eight million people is concentrated mostly on the plateau, where the largest cities are to be found: among them are the two global and economic centers Zürich and Geneva.
Links To Peel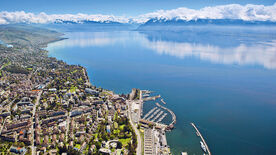 Peel visited Lausanne for the Eurovision Song Contest in 1989 and also made a BBC Radio One documentary of that experience. On his 08 May 1989 show, Peel claimed that he drove to the city and thought the British entry Live Report should have won it, as he felt it was:
"The best song and certainly the best performance featured in the Eurovision Song Contest for years and years and years - and it only came second. I was outraged."
Peel often played records from Switzerland especially bands such as Liliput and his favourite painter was Paul Klee, a Swiss-German.
Sessions
The following artists from Switzerland recorded sessions for the John Peel Show:
Festive Fifty
The following artists from Switzerland had Festive Fifty entries for the John Peel Show:
Compilations
(Tracks played by Peel from various artist (v/a) compilations featuring music from Switzerland. Please add more information if known.)
(LP - Swiss Wave The Album) Off Course
See Also
External Links
Community content is available under
CC-BY-SA
unless otherwise noted.