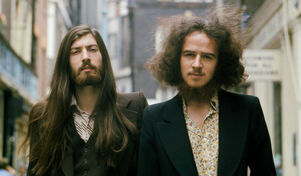 Tír na nÓg (it means 'Land Of The Young' in the Irish language) are an Irish folk band formed in Dublin, Ireland, in 1969 by Leo O'Kelly and Sonny Condell. They are often considered as one of the first progressive folk bands with other artists like Nick Drake or groups like Pentangle. Their music mainly consists of their own compositions, based on strong Celtic roots and typically featuring intricate acoustic guitar playing and close harmony singing. In their early years, they toured the folk clubs of the United Kingdom or internationally as a support act for several rock bands. Today, they regularly give concerts, especially in Ireland.
Links to Peel
Tir na nOg made three albums for Chrysalis Records in the early 1970s before breaking up in 1974. They were well received in the British music press, with the first being chosen as Melody Maker album of the month in May 1971. Peel also rated the duo, introducing a live concert by them (sharing the bill with Caravan) in 1971 and subsequently booking them for four sessions for Top Gear. In a 2014 interview with Strange Brew, Leo O'Kelly recalled his memory of one of the Peel sessions:
"I remember doing a John Peel session one night. As we were arriving Nick Lowe was leaving. I think he was with Brinsley Schwarz at the time and they'd just done a John Peel session. We exchanged hellos and stuff and went in and did ours. Halfway through I realised the engineer had been recording over the session they'd just done. Brinsley Schwarz no less!" [1]
Much later, in 1985, Tir na nOg re-formed, but Peel seems to have ignored their later work. He did, however, play a track from their debut LP in 2000 - "The Boat Song", which he had singled out for praise when they had performed it on their 1971 In Concert appearance.
Sessions
1. Recorded: 1972-05-01. Broadcast: 09 June 1972. Repeated: 14 July 1972
Blue Bottle Star / Piccadily / Come And See The Show / The Same Thing Happening
2. Recorded: 1972-09-04. Broadcast: 17 October 1972
Teeside / Going Away / Strong In The Sun / In The Morning / I Wanna Roo You
3. Recorded: 1973-01-15. Broadcast: 01 February 1973
Cinema / Free Ride / Most Magical / In The Morning
4. Recorded: 1973-10-23. Broadcast: 13 November 1973
Free Ride / Today We Flew / Backwater A While / Better Of At Home
Live
Live at the Paris Theatre. Recorded on 1971-05-06. Broadcast: 16 May 1971
Our Love Will Not Decay
Daisy Lady
Tir Na Nog
The Boat Song
Aberdeen Angus
Looking Up
Other Shows Played
06 June 1972: Goodbye My Love (LP – A Tear And A Smile) Chrysalis
1973
2000
External Links
Community content is available under
CC-BY-SA
unless otherwise noted.