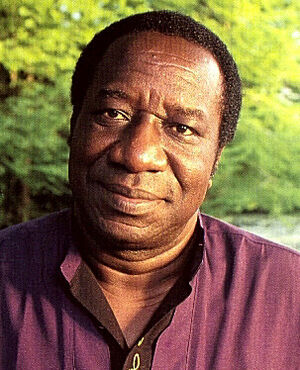 Tabu Ley Rochereau
(real name: Pascal-Emmanuel Sinamoyi Tabu) (13 November 1937 – 30 November 2013) was a leading African rumba singer-songwriter from the
Democratic Republic Of The Congo
(previously called Zaire). He was the leader of
Orchestre Africa International
, as well as one of Africa's most influential vocalists and prolific songwriters. Along with guitarist Dr Nico Kasanda, Tabu Ley pioneered
soukous
(African rumba) and internationalised his music by fusing elements of Congolese folk music with Cuban, Caribbean and Latin American rumba. He has been described as the "African Elvis" by the Los Angeles Times. Tabu Ley was born in the western city of Bandundu and first started singing in church and school choirs.  His career took off shortly before the country's independence from Belgium in 1960 when he moved to Kinshasa.  He went into exile in the 1980s during Mobutu Sese Seko's long rule, returning after his overthrow in 1997. The musician then went into politics, serving amongst other roles as a deputy governor of Kinshasa and a provincial cultural minister.  He died in hospital in Belgium on 30th November 2013 after a long illness.
Links To Peel
Peel discovered Tabu Ley Rochereau through the record label Sterns which regularly sent records imported from Africa to Peel: he generally showed a liking for his style along with other African musical genres. Peel regularly played Rochereau's music in the 80's and 90's, but as with music trends, Soukous music became much faster, with Rochereau's music considered being out of touch.  Despite this, many modern Soukous artists consider Tabu Ley Rochereau as the pioneer of Soukous music and so popular was he that when Rochereau died in November 2013, his country, the Democratic Republic of Congo, declared a day of mourning and his funeral took place in the country's parliament.
Shows Played
1981
1983
1984
1989
1990
1991
1992
1993
1994
External Links
Community content is available under
CC-BY-SA
unless otherwise noted.