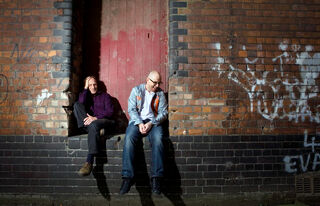 Tall Pony was a band from Cheltenham and Gloucester, UK. Members were Paul Towey and Tony Gage. Their sole release was a CD single on Cherryade Records [1] title I'm Your Boyfriend Now, another track in a limited list of songs that made the Festive Fifty two years running (the last incident before this was I Tried It, I Liked It, I Loved It by Decoration). This was due to the fact that it was sent out as a demo first and then officially released the following year. Huw Stephens first played it at the end of August 2006 and it subsequently became the most requested song of the year on his show. (However, none of the Dandelion Radio DJs aired the song, according to Mark Whitby.) [2]
Tall Pony split up in August 2007.
Festive Fifty Entries
Sessions
Other Shows Played
External Links
Footnotes
↑ A label run by Dandelion Radio DJ Rachel Neiman.
↑ Whitby, M., 'The Festive Fifty (Unwashed Territories, 2015), p. 91).