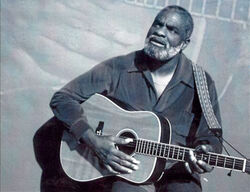 Ted Hawkins (October 28, 1936 – January 1, 1995) was an American singer-songwriter born in Biloxi, Mississippi. He was an enigmatic figure for most of his career. He split his time between his adopted hometown of Venice Beach, California, where he was a mostly anonymous street performer, and Europe and Australia, where he and his songs were better known and well received in clubs and small concert halls.
Hawkins was born into a poor family in Mississippi and had a difficult early life. He was sent to a reform school when he was 12 years old. As a teenager he drifted, hitch hiking, and stole his way across the country for the next dozen years, earning several stays in prison including a three-year stint for stealing a leather jacket as a teenager. Along the way, he picked up a love of music and a talent for the guitar. "I was sent to a school for bad boys called Oakley Training School in 1949", he wrote in a brief piece of autobiography. "There I developed my voice by singing with a group that the superintendent's wife had got together". After reform school, he ended up in the state penitentiary and was released at 19. "Then I heard a singer whose name was Sam Cooke. His voice did something to me."
(read more on Wikipedia)
Links to Peel
Peel first heard tracks from Ted Hawkins in 1985, more likely via Andy Kershaw, who discovered the work from the artist and even went to his home in America to interview him for the Old Grey Whistle Test in 1986. Although Peel was enthusiastic about the works of Ted Hawkins at the beginning, he seemed to have lost interest in the artist after the 80's and rarely played any tracks from him.
Shows Played
1986
1988
External Links
Community content is available under
CC-BY-SA
unless otherwise noted.