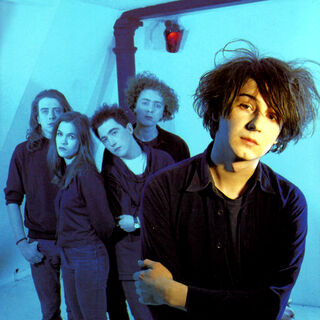 "It's curious how last year they were terrifically hip and now suddenly not so hip at all, really. I think it was the Reading Festival, they somehow got it wrong at the Reading Festival: I was standing on stage watching them, they weren't terribly good but there was more to it than that somehow." [1]
The Telescopes are an English noise, space rock, dream pop and psychedelic band, formed in Burton Upon Trent in 1987 by Stephen Lawrie, and drawing influence from artists such as Suicide, The Velvet Underground and The 13th Floor Elevators. They have a total of ten released albums including their debut, Taste, released in 1989.
After an 8-year gap the group returned in 2002 as an 11 piece featuring core members Stephen Lawrie & Jo Doran with a new album "Third Wave" on NYC label Double Agent. The band are still recording and released Exploding Head Syndrome in 2019. AllMusic said, "the long-running group explored many realms of guitar-driven sounds (noise rock, shoegaze, dream pop, experimental noise) over an always interesting, risk-taking career."
Links to Peel
The Telescopes recorded two sessions and gained a Festive Fifty entry in 1989.The band's Third Wave LP excited Peel, who said he was both "amazed and glad they were still practising their mysterious art": consequently, he championed it and listed it in September 2002 (Peel's Record Box).
Festive Fifty Entries
Sessions
Two sessions. #1 available on CD reissue of Taste (Rev-Ola).
1. Recorded: 1989-05-16. Producer: Dale Griffin. First broadcast: 13 June 1989. Repeated: 29 August 1989
Sadness Pale / There Is No Floor [1] / Suffocation / Silent Water
2. Recorded: 1991-08-06. First broadcast: 15 September 1991. Repeated: 08 December 1991.
Please Tell Mother / Splashdown / Pressence Of Your Grace [2] / To The Shore
Other Shows Played
1990
1991
2002
2003
2004
External Links
Footnotes
↑ During the repeat, Peel calls this track There Is No 13th Floor, which is not listed as such in Ken Garner's books. This could either be a mistake or a knowing reference to one of their influences.
↑ As spelled on the BBC's Keeping It Peel site. Garner has 'Prescence'.
Community content is available under
CC-BY-SA
unless otherwise noted.