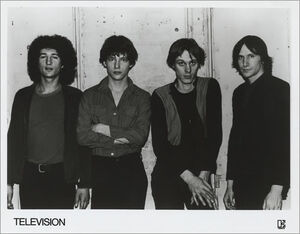 Television is an American rock band from New York City, most notably active in the 1970s. The group was founded by Tom Verlaine, Richard Lloyd, Billy Ficca, and Richard Hell. An early fixture of CBGB and the 1970s New York rock scene, the band is considered influential in the development of punk and alternative music. Although they recorded in a stripped-down, guitar-based manner similar to their punk contemporaries, Television's music was by comparison clean, improvisational, and technically proficient, drawing influence from avant-garde jazz and 1960s rock. The group's debut album, Marquee Moon, is often considered one of the defining releases of the post-punk era.
Links to Peel
Peel was aware of Television in 1976, the year when punk started to emerge, when he played their debut single Little Johnny Jewel Part 1, after playing a track from Richard Hell, who was previously a member of the band on his special punk show which was broadcast in December of that year.
The band's debut album, Marquee Moon, for the Elektra label, was received positively by music critics as well as by Peel, who would often play tracks from it, even after the band split up in the late 70's. The album was also listed as one of the top 100 albums of the millennium, as part of the Music Of The Millennium TV programme in 1998, hosted by Peel and Jo Whiley.
Shows Played
1977
1978
1979
1980
1981
1983
1985
1990
1996
External Links
Community content is available under
CC-BY-SA
unless otherwise noted.